PUBG Mobile Announces New Collaboration With Bugatti
PUBG Mobile is holding a brand new collaboration with Bugatti, bringing two of the company's cars to the game for a limited time.
---
Krafton Inc. has revealed a brand new collaboration is coming to PUBG Mobile as they have partnered with the automotive company Bugatti. This is basically your chance to collect two special cars in the game and add them to your profile, which starts today and runs all the way until April 30th. You will have a chance to obtain the Bugatti Veyron 16.4 Grand Sport Vitesse and the Bugatti La Voiture Noire, both of which will come with additional secret color themes to unlock, as well as a themed Bugatti ornament and parachute for you to drop down into the field with. We got more info and the trailer for this crossover below.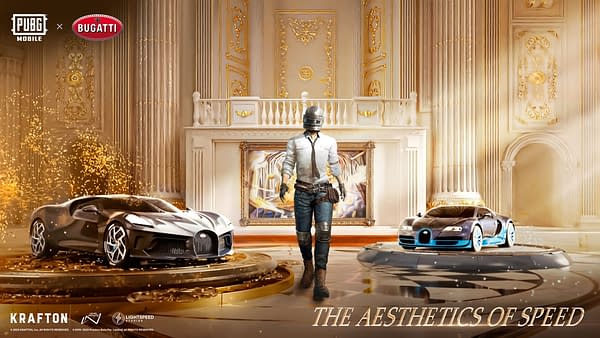 "The Veyron supercar series catapulted Bugatti into the modern landscape of automotive fame, and the latest model in the range, the Bugatti Veyron 16.4 Grand Sport Vitesse, is one of the fastest and most powerful production roadsters in the world, with a name that literally means 'speed.' Retailing originally at $2.2 million and currently sold out worldwide, the world-record-setting 408.84km/h vehicle will now be available to PUBG Mobile's players today."
"In addition to the in-game arrival of the Bugatti Veyron 16.4 Grand Sport Vitesse, players will have the unique opportunity to drive the one-of-a-kind Bugatti La Voiture Noire. Unveiled to celebrate Bugatti's 110th anniversary and created in homage to the famous long-lost Bugatti Type 57 SC Atlantic, the one-off "La Voiture Noire" is a tribute to Bugatti's own history, a manifesto of the Bugatti aesthetic and a piece of automotive haute couture. With only one model in existence, this partnership brings PUBG Mobile players a one-of-a-kind experience. Internationally renowned and founded over 110 years ago, Bugatti has established itself as the world's most exclusive supercar brand. Known for its pioneering spirit and passion for perfection, Bugatti continues to push the limits of automotive design, combining elegance with power."