PUMA Announces New "Tetris" Sneakers & Apparel
PUMA announced this morning that the company would be releasing a new line of shoes and apparel tying into their partnership with Tetris. Both companies had come together back in February 2019 for a partnership deal, but this is the first time we're seeing the fruits of that deal. We have the details below on the new items being released this week as you can get them from retail stores selling PUMA starting today. The sneakers look absolutely amazing, and the gear itself is of great quality. We'll see who out there wants to get some new Tetris gear.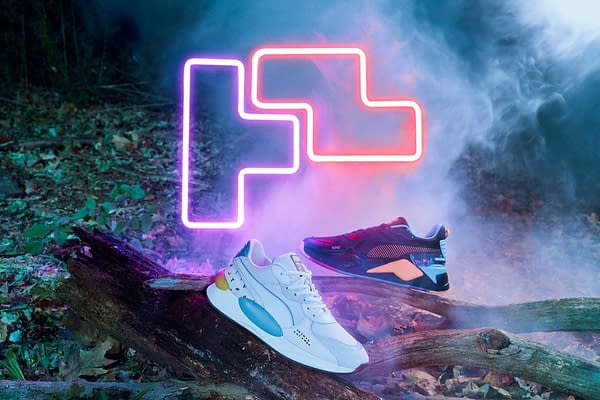 The PUMA x Tetris collection includes PUMA's future-retro sneakers RS 9.8 and RS-X in daring colors inspired by the game, with falling Tetriminos sprinkled across the heel. Reflective trimmings and a 3D heat-cut Tetris tongue logo add to the striking look of the RS-X. The phrase "HARD DROP" printed on the RS-X's 3D heel is a nod to the command in the game, which makes the Tetriminos land instantly.

Like how you aim to clear lines by forming complete rows of Tetriminos in Tetris, there can't be any gaps in the outfit. The collection includes apparel such as the PUMA x Tetris XTG Track Jacket, which has PUMA's cat logo printed on the chest and Tetriminos arranged in the shape of PUMA's classic formstrip design element on the back. The matching PUMA x Tetris Tee and PUMA x Tetris XTG Track Pants complete the look.