Renegade Game Studios Adding Puzzles To Their Repertoire
Renegade Game Studios, the tabletop board game and card game company responsible for bringing us the Gudetama card game as well as Power Rangers: Heroes of the Grid, is venturing into new territory! Their next journey in the tabletop gaming world may seem puzzling, but that's because they're doing just that: puzzles!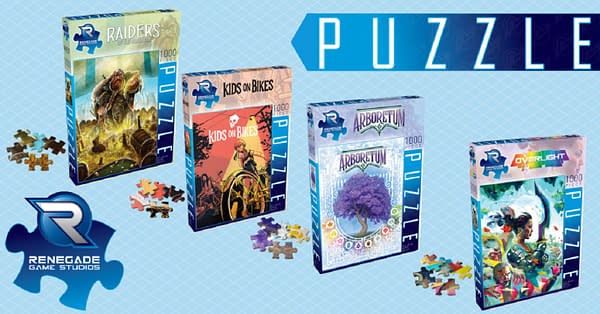 Beginning on June 16th, Renegade Game Studios will have a Kickstarter campaign up for them to crowdsource the funds needed to create these puzzles for the masses. Featuring box art and key art from such games as Arboretum and Kids On Bikes, Renegade's various puzzles will surely be a hit discussion point from the comfort of your coffee table.
From a press release sent by Renegade regarding the subject of the upcoming Kickstarter launch:
We're so lucky to work with talented people – including award-winning artists like Kwanchai Moriya, The Mico, Beth Sobel and Heather Vaughan. The art they create is memorable, immersive, and beautiful. We're thrilled to offer gamers new opportunities to appreciate their work on the tabletop.
Renegade's jigsaw puzzles will have some stiff competition from various other gaming companies dabbling in similar ventures. Time will indeed tell whether or not Renegade Game Studios' puzzles will have the popularity needed to best such competitors in the market. However, with the help of so many talented artists and the team working at Renegade to bring such an enterprise to life, what's to say they won't topple the current bestsellers? It truly is a puzzle in itself.
If you're interested in this, feel free to sign up to be notified of when the Kickstarter campaign goes live by clicking here.
What do you think about the addition of this enterprise into Renegade's overall repertoire? Will their new adventure attract more new players to their fold? Will existing, die-hard players of their games seek to buy puzzles from within Renegade's existing properties? Let us know what your thoughts are on this business move!