Review: "Dungeons & Dragons" Vs. "Rick And Morty" Box Set
Last year, one of the most talked-about crossover events was when IDW helped collide the worlds of Dungeons & Dragons and Rick And Morty together. Since that time, the comics have gotten a sequel series, IDW released the comics as a complete set, and people begged Wizards Of The Coast to do their own adventure. Well… ask and you shall receive. The company, along with Adult Swim, created a box set combining both of those entities into a fully-fledged playable adventure. I had to play this thing more than once before I could come in here and do a proper review.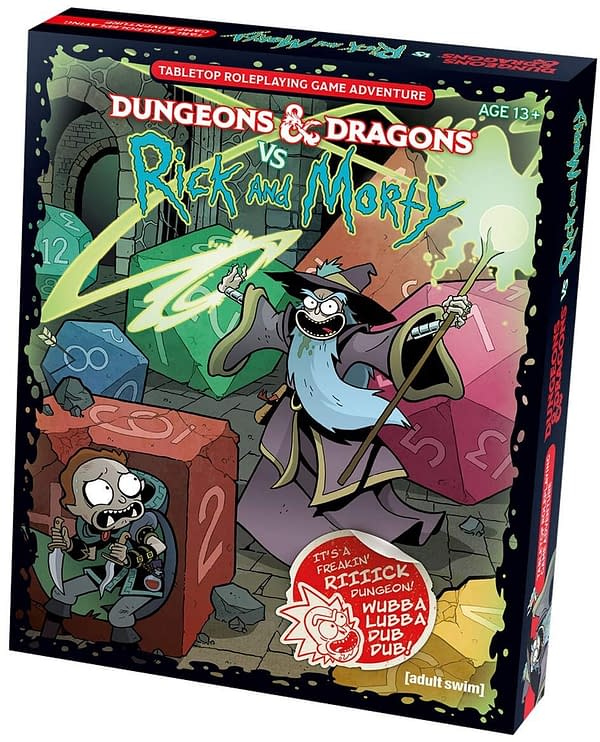 So let's start with the basic question you may be asking as an obsessed fan of one or both of these properties. Yes, this is an official R&M game. No, it is not some secret episode, a prelude to an episode, or official cannon to the series. Yes, there are a ton of jokes in here that match the series. No, it was not written by Dan Harmon, Justin Roiland, or anyone on the show's staff. This was designed by Kate Welch with the help of several R&M experts who also know how D&D works and how to craft the show around the game. Yes, there are a ton of references to past episodes. Several upon several, in fact. A fuck-ton you might say. Basically, these are people who know the show and know the game and took time putting it together well. Cool? (I don't really care if you're cool with all that, those are the facts.)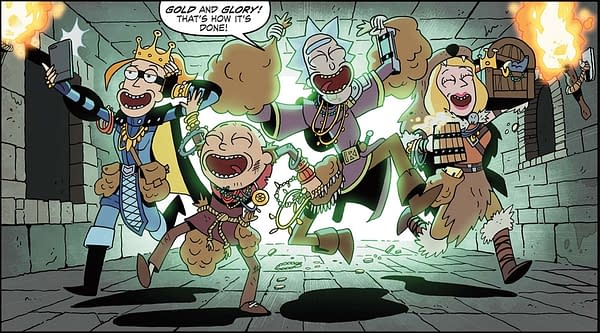 The game comes with a few different items. This includes a Rulebook, an Adventure book, a specially designed DM screen, character sheets for all five characters, and a set of 11 dice for the DM to use. The dice and the DM screen are pretty self-explanatory. The character sheets are that of the family, each of them having their own roles in the party that will help you out in every scenario. Summer is a Fighter, Morty is a Rogue, Jerry is a Wizard, and Beth is a Cleric. The fifth character is a Fighter added to the game simply called Meatface. He was made solely for this game so you could do an adventure up to five people and have an extra fighter so you could survive.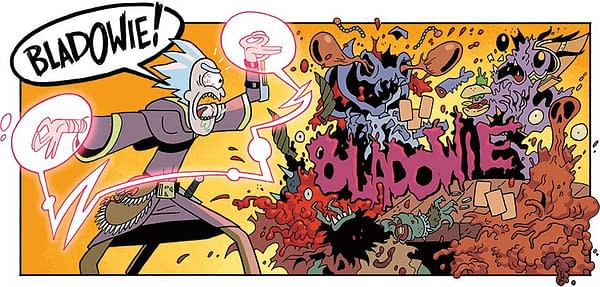 The Rulebook has been written and designed to teach anyone how to play D&D from scratch. Complete with Rick jokes throughout it to simplify it and give the game some humor. I like to believe this was done because they knew there would be hardcore Rick And Morty fans who have never played a second of Dungeons & Dragons in their life. But they were determined to buy this, and if they wanted to play it, they had to create a guide that was easy to learn. They did a fantastic job with it that rivals many of the other easy-to-learn guides I've seen. Finally, the Adventure book, which is called The Lost Dungeon Of Rickedness: Big Rick Energy. Without getting into spoilers, the story is that Rick created a D&D adventure that the family is now playing. It is a very Rick-inspired dungeon with a lot of jabs at Jerry, but figurative and literal. Your goal: get to the end of the dungeon, alive, as a team if you can.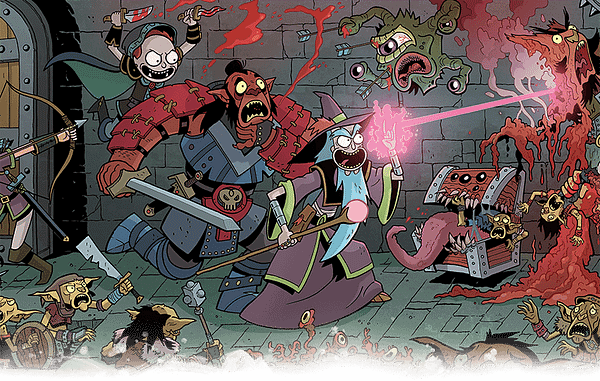 I had the chance a while ago to play this game with several members of the press, as well as fellow D&D fans and high-profile people like Satine Phoenix, Kate Welch, Kelly Knox, and more. We played through a session as a group that was pretty awesome, then I got my copy to take home where I played this three more times. One of the best perks of this is that it's pretty easy for anyone to grasp. I grabbed a couple of newbies who love Rick And Morty, but don't know much about D&D beyond the few times they played it as kids. This version of the game is the equivalent of putting medicine in ice cream. It's was a big enough entity to get their attention and make them want to learn. It's the kind of branding and mixing of genres that geeks appreciate and will go to great lengths in order to try it.
Overall, I think this is one of the highlights of Dungeons & Dragons during Fifth Edition. When you're able to do a crossover with something in pop culture that's so over that even your grandparents know about it, you have a license to print money. This is the kind of box set that will get a lot of people who had zero interest in D&D to the table, and maybe bring back a few who tried it once and weren't too into it. The trick afterward is getting them into the regular game. But having a Rick And Morty adventure is an awesome way of making it happen. I highly recommend it for R&M fans, especially those looking to try something new beyond R&M Monopoly.