Because of the way the series has taken off, it's a pretty safe bet that we'll be seeing Rick and Morty merchandise until the day we're all dead in the ground. So it shouldn't come as much of a surprise that there's a version of Clue with their name on it that just got released by USAopoly. They sent us a copy to review, so I snagged some friends and played it out over at the Watchtower Cafe in Salt Lake City.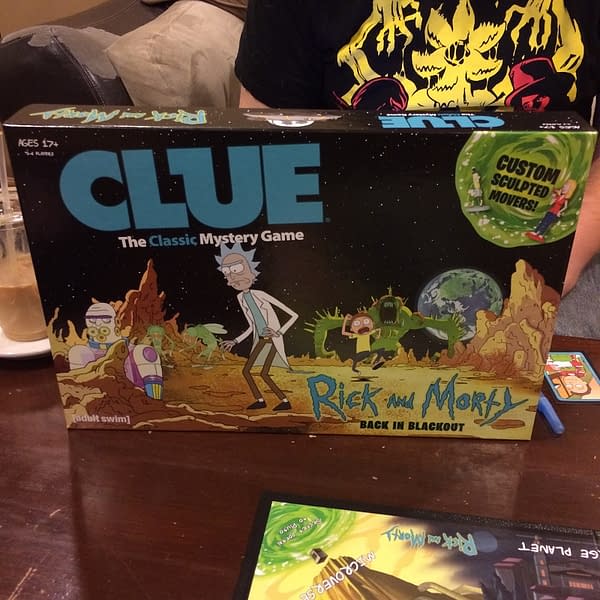 If you've ever played Clue in your life, you're in luck, because it plays exactly like Clue with a few additional rules and slight changes. First off, you use two dice to get around the board because of the way the board is shaped. Second, none of the character models (which are awesomely designed) are possible murderers in the game, and they have been replaced by six random characters from the series on cardboard tokens. Third, there's an added Contraption Card pile that you can get by landing on a "?" spot. And finally, all of the characters have a Personality Card that gives them an added ability in the game. You start off like any game of Clue, taking your character around the board (or in this case, different worlds) and making assumptions on who killed someone, where they did it, and with what weapon. Cards will be revealed to you as you try to guess the three items involved, eventually leading to you or someone else making it back to the center of the board (in this case, Earth) to make a final accusation to win the game. The uniqueness of the game comes from the additions, which reminds me a lot of the Game Of Thrones version. Each character's personality card gives them something special, like the ability to travel to a different part of the board without rolling dice, or getting the chance to see the same card someone just revealed to someone else. But the real help comes in the contraptions, where you can take items and use them to your best ability to gain an advantage. These cards will add an extra six to your dice, or take an extra turn, or ask a bonus question. Anything to give you an advantage over your teammates. As far as the design goes, this is probably one of the weirdest versions of Clue you'll see. While it does somewhat keep the flow and essential vibe of the game, the Rick and Morty additions definitely mix things up and make a lot of what you need to do kinda mixed up and kinda fun. It's cool to see them utilize elements from the show to make the game work, especially looking at character models like Gerry holding his putter and Beth with a glass of wine. The creators behind this version wanted to give you a version of Clue to be proud of owning, and with a couple exceptions on the tokens, they did a fine job. If you're a Rick and Morty fan, this is clearly a must-own as this is one of those games where you can show your love for the series and still have a game night with a traditional board game. Clue fans will probably have a few issues with it, specifically the board design and the way turns are handled, but it isn't anything they can't adapt to or get over. I had a lot of fun with this in both a three-player and a five-player setting, and highly recommend it for people who are looking for a different version of a classic. Enjoyed this article? Share it!