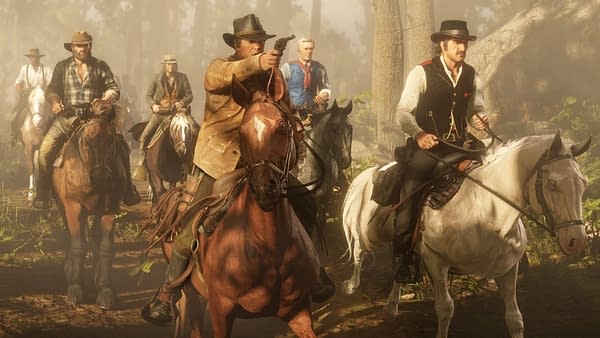 According to several reports, Rockstar Games' developers have been working 100-hour weeks several times in 2018 in order to get Red Dead Redemption 2 out on time. Now, this isn't the first time Rockstar devs have put in absurd hours. They've done it for many of their major games, including the original Red Dead Redemption.
GamesIndustry.biz has published a report about the situation at Rockstar which includes testimony from both Dan and Sam Houser. That testimony directly refutes the official Rockstar Games take on how the development process is going, which naturally makes it something of a controversy.
GamesIndustry.biz reports:
Dan Houser said that the team has been "working 100-hour weeks" several times in 2018, later adding that compared to previous Rockstar projects, "This was the hardest."

His brother Sam told the site earlier this year: "We've poured everything we have into [Red Dead Redemption 2]. We have really pushed ourselves as hard as we can."

The result is a game that Dan claims is 65 hours long (although five hours of content have actually been cut) and boast 300,000 animations, 500,000 lines of dialogue recorded by 700 voice actors, and even more lines of code.

The level of detail seen in the trailers, and the glowing previews, suggest this work has paid off but it brings to mind the Rockstar Spouse incident around the original Red Dead Redemption.

Back in 2010, just a few months before the game launched, an open letter allegedly written on behalf of the wives of Rockstar San Diego employees claimed the team was expected to work 60-hour weeks – 12-hour days, including Saturdays – or they would face disciplinary action.

Rockstar later attributed this to "people taking the opinions of a few anonymous posters on message boards as fact."
Rockstar went on the record to clarify their statement, but the social media backlash has already begun. Dan Houser got on the record with IGN to insist the long hours were only being pulled by his writing team:
Houser clarified his comments, saying the 100-hour work weeks sentiment was explicitly about his writing team, which included himself, Mike Unsworth, Rupert Humphries, and Lazlow Jones.
As if the fact that only the writers are working 100 hour weeks is somehow okay. Now, social media is often used to reinforce labor standards and regulations and that is arguably one of the best uses of social platforms ever. So, naturally games Twitter is a bit of a hot place right now. With all the recent shakeups in the game dev industry, reports that Rockstar has been working its devs to the bone have people aflutter.
To save you the inevitable google search, here are some highlights of Twitter's hottakes on the Rockstar situation:
https://twitter.com/tauriqmoosa/status/1051849746460106753
https://twitter.com/Kohaku233/status/1051901581418000392
Rockstar says the team has been 'working 100 hour weeks' for Red Dead Redemption.

Please don't make your employees do this – in any industry, in any job, for any reason.https://t.co/JzeBeZkNsl pic.twitter.com/cu65viId9X

— Ryan Brown 🎮 (@Toadsanime) October 15, 2018
Enjoyed this article? Share it!