I hope you're ready for Magic: The Gathering's newest drop release for Secret Lair: "Stargazing"!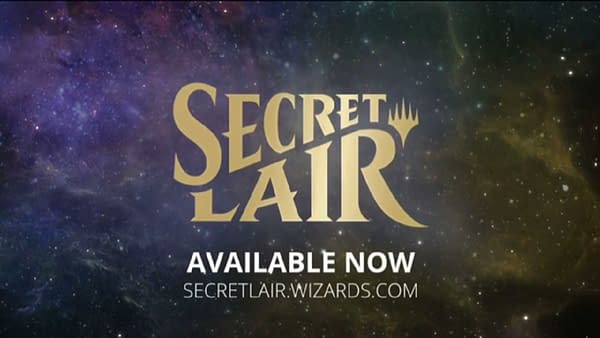 The "Stargazing" release, available only for the duration of this weekend alone – and I mean only this weekend – contains five different drops. The drops have three cards each and are themed after the gods of the Theroan Pantheon.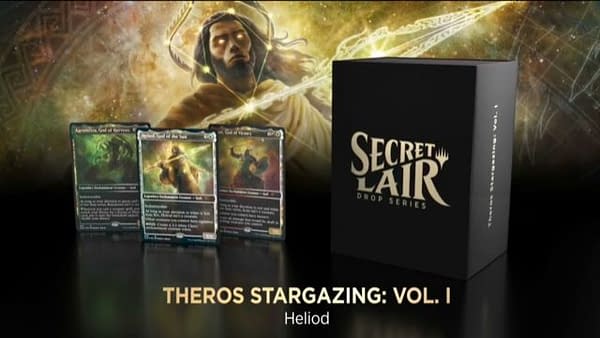 Volume One contains Heliod, God of the Sun. Karametra, God of Harvests, and Iroas, God of Victory.
Volume Two contains Thassa, God of the Sea, Ephara, God of the Polis, and Kruphix, God of Horizons.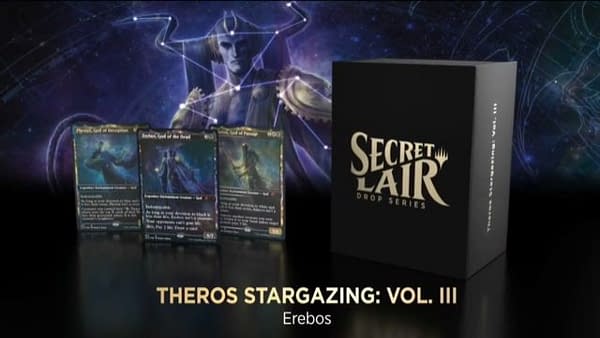 Volume Three contains Erebos, God of the Dead, Phenax, God of Deception, and Athreos, God of Passage.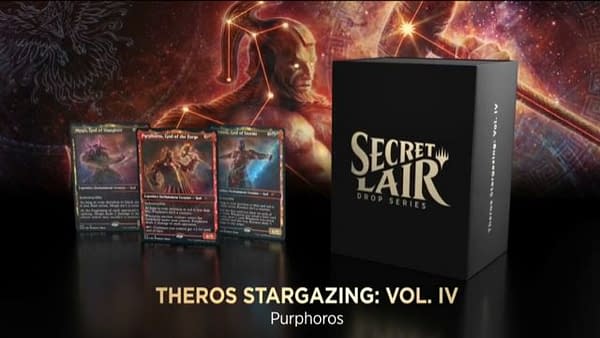 Volume Four contains Purphoros, God of the Forge, Mogis, God of Slaughter, and Keranos, God of Storms.
Finally, Volume Five contains Nylea, God of the Hunt, Xenagos, God of Revels, and Pharika, God of Afflictions.
All of these are available on http://secretlair.wizards.com. These can be purchased all at once and/or as individual drops, from February 14th-16th. They sell for $39.99 per drop or $149.99 for a bundle containing all five.
When you go onto the website, realize that you'll only have ten minutes to make your purchase, so make sure you have your billing information and shipping information readily available to you.
Some final notes on the Secret Lair purchases:
All sales are final – please refer to our Return Policy for return eligibility. If a product arrives damaged or has a manufacturing defect, please refer to the FAQ to contact our Customer Care Team.

The name and address on an order cannot be changed – check carefully before submitting an order.

Inventory on this product is limited. Availability may be limited by time or inventory and is only confirmed upon purchase.

Orders ship in waves, usually within six to ten weeks.

Any orders attempting to circumvent quantity limits, regardless of method, will be subject to cancellation without notice.
Are you excited about this release? What's your favorite god of Theros? Let us know what you think!
Enjoyed this article? Share it!