Shiny Tapu Lele, Mega Gardevoir, & New Content Arrives In Pokémon GO
Niantic has unveiled their slate of Pokémon GO releases and events for February 2023 including Mega Gardevoir, two Primal Pokémom, & more.
---
New content is coming to Pokémon GO this month, including Mega Gardevoir, Shiny Tapu Lele, Primal Groudon, Primal Kyogre, and more. Let's get into the details.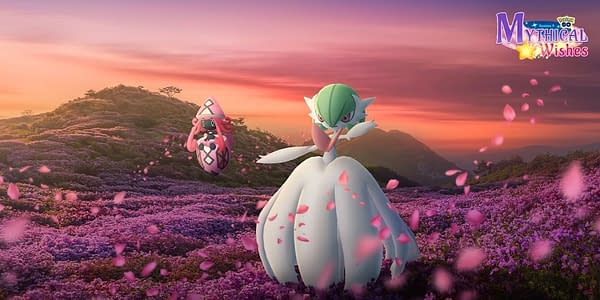 These are the Pokémon that will appear in Tier Five raids in Pokémon GO this February 2023:
February 1st – February 8th: Registeel with the special move Zap Cannon
February 8th – February 15th: Tapu Lele with a Shiny release
February 15th – February 22nd: Regirock with the special move Earthquake
February 22nd – March 1st: Rayquaza with the special move Breaking Swipe

February 25th – February 26th, 10 AM – 6 PM only for Pokémon GO Tour Hoenn: All four Formes of Deoxys in Tier Five Raids
The Raid Hours for the month of February 2023 in Pokémon GO are:
February 4th, 2023: Registeel, can be Shiny
February 11th, 2023: Tapu Lele, Shiny release
February 18th, 2023: Regirock, can be Shiny
February 25th, 2023: Rayquaza, can be Shiny
Here are the Mega Pokémon that will appear in Mega Raids in Pokémon GO this February 2023:
February 1st – February 8th: Mega Gengar
February 8th – February 15th: Mega Gardevoir, first-time release
February 15th – February 22nd: Mega Pidgeot
February 22nd – March 1st: Mega Latias and Mega Latios in Legendary Mega Raids

February 25th – February 26th, 10 AM – 6 PM only for Pokémon GO Tour Hoenn: Primal Groudon and Primal Kyogre in new Primal Raids
Here are the events coming to Pokémon GO in February 2023:
Current – February 5th, 2023: Crackling Voltage
February 1st – February 5th, 2023: Team GO Rocket Takeover
February 5th, 2023 from 2 PM – 5 PM: Noibat Community Day
February 8th – February 14th, 2023: Valentine's Day Event
February 11th, 2023 from 2 PM – 5 PM: Luvdisc Limited Research Day
February 12th, 2023 from 12 AM – 11:59 PM: Vulpix GO Battle League Day
February 18th – February 19th, 2023: Pokémon GO Tour: Hoenn – Las Vegas (In-Person Event)
February 22nd – February 24th, 2023: Primal Rumblings Event
February 25th – February 26th, 2023: Pokémon GO Tour: Hoenn – Global (Remote Event)
These are the Spotlight Hours and bonuses coming to Pokémon GO in January 2023:
February 7th, 2023: Pidgey with double XP for evolving Pokémon
February 14th, 2023: Woobat with double Stardust for catching
February 21st, 2023: Jigglypuff with double XP for catching
February 28th, 2023: Slakoth with double Candy for catching
Current Research Breakthrough encounters from December 2022 until March 1st, 2023:
Galarian Mr. Mime, can be Shiny
Delibird, can be Shiny
Bagon, can be Shiny
Deino, can be Shiny
Furfrou, can be Shiny
Goomy