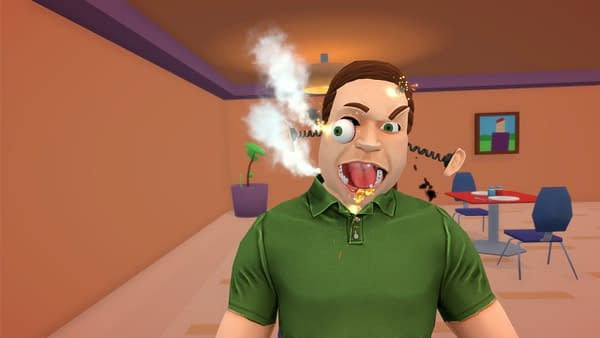 Speaking Simulator looks like one of the most hilarious games I've ever seen. And I absolutely can't wait to give it a try.
From the moment I laid eyes on the trailer with its goofy character and his wiggly eyebrows, Octodad-like appendages, and his struggle to speak coherently, I knew I'd have to give it a try.
But there's nothing weird about it. You're just playing as a regular, everyday human. Totally not a robot trying to take over the world or anything like it. And those sparks flying out of your face? That's, er, a skin condition. Right! Nothing to worry about here. Move along in an orderly fashion, and all that.
Okay, the jig is up. You are a robot, and that's why it's so difficult for you to talk. You've got to learn how to use your "meat body" to put on the correct expressions, speak correctly, and even use your tongue at the right moment. Think QWOP for everyday social situations.
It looks positively riotous, and I can't wait until it debuts on Switch and PC when January 30 rolls around. In the meantime, check out some of the official key features from dev Affable Games:
Make your way through 10 different social scenarios such as job interviews, eulogies, doctor examinations, and romantic conversations.
Upgrade yourself with the latest in social technology. Learn to smile, raise an eyebrow, and awkwardly glance away from eye contact, just like in real life!
The most realistic gibberish system ever seen in gaming. Play within a dynamic audio system that reacts to tongue and mouth movement.
Replayability: With a huge array of different failure facial explosions, every conversation is hilarious and unique.
Fantastically beautiful tongue graphics. Finely tuned spit particles.
Adaptive soundtrack which changes as you enter different parts of your conversation.
Highly polished dialogue and delightful narrative.
Take part in the human self expression known as dance.
Customize your robot to make it feel like your own.
A surprisingly good portrayal of social anxiety.
Looks pretty awesome, right? Let us know if this is something you'd like to try out, because it looks like an absolute blast.
Enjoyed this article? Share it!