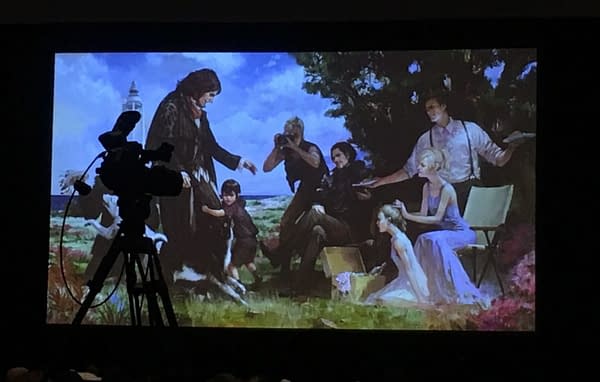 At the PAX East Final Fantasy XV: Windows Edition – Making It Yours panel, Square Enix decided to spend about 10 minutes dropping an absolute ton of news for all versions of the game. Raio Mitsuno, the Global Brand Manager for Final Fantasy XV, took the stage to talk about FFXV in general after the panel went through all the mod tools coming to the PC version. Mitsuno had one major thing to talk about, and that boiled down to four new DLC character episodes.
Prior DLC episodes put the spotlight on Noctis's friends and were designed flesh out the game world and its existing story. The New DLC episodes have one goal in mind: to realize "a future everyone longed for." That is, they bring in alternate universe endings for the characters of FFXV and are designed to give players a choice to change their fate.
These new episodes are being called "The Dawn of the Future."
The first episode is Episode Ardyn: The Conflict of the Sage. Because everyone loves FFXVs trash king. We get to look into Ardyn's past. This is also the first time you get to play as a villain in the game. Ardyn was the most-requested character for a DLC expansion based on last year's survey.
The second is Episode Aranea: The Beginning of the End, focusing on the Starscourge from the point of view of a fallen empire. As Mitsuno said, the last day of the Empire was the worst day of Aranea's life.
The third episode is Episode Lunafreya, working title The Choice of Freedom — which will save Luna from death. This also overturns the destiny dealt to the king of Lucis, which means this is a Noctis-lives universe.
The fourth episode is Episode Noctis: The Final Strike, where Noctis parts ways with the Astrals to obtain the ideal ending for the people of Lucis.
Director of FFXV: Episode Ignis and all four new DLCs, Takefumi Terada, joined the stage to chat about the upcoming DLCs. "Episode Ardyn and Luna we knew we had to do, and from the dev team we knew we had to give the game an alternate grand finale," Terada said. That led to Episode Ncotis. Based on fan feedback, the final DLC was either going to be Ravus, Aranea, or Nyx, but ultimately Terada decided on Aranea.
However, Mitsuno did almost tease the idea of even more DLC based on fan feedback. Personally I'm still pulling for Episode Cor, but I know a pipe dream when I make one.
And of course, with a new ending, the game has a brand-new theme song by Yoko Shimimura. The upcoming DLC episodes will hit starting Winter 2019 with Episode Ardyn and keep coming through summer 2019 at a more rapid pace than the previous four expansions.
Enjoyed this article? Share it!