StarCraft is set to celebrate its 20th anniversary this month and to give back to fans, Blizzard is bringing goods to all of its games themed around the historic RTS.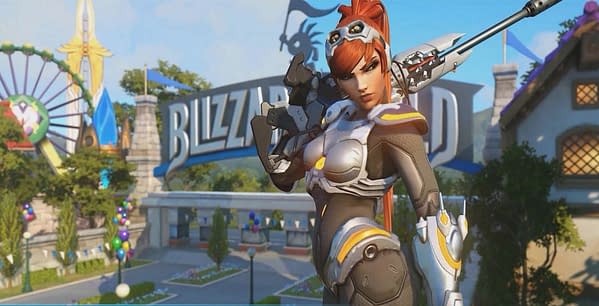 StarCraft turns 20 years old on March 31. The franchise has an important place in the history of the real-time strategy genre but also in helping to make Blizzard the super developer it is today. To say the game was a huge success for Blizzard would be an understatement as it paved the way for the other successes which made the company one of the biggest entertainment producers in the world today.
It's making sure to celebrate the franchise too as it will be bringing items and goods based on the franchise to all of its titles on Battle.net. World of Warcraft, Overwatch, Diablo and, of course, StarCraft games will all be getting a little something over the next few weeks to show off your love of the series. Perhaps the biggest cross-game promotion will be a new Widowmaker skin coming to Overwatch. It's based on Kerrigan as a Ghost and brings Widowmaker's StarCraft based skins to two. It looks pretty similar to her Nova skin which came last month as part of the Blizzard World patch, but it's a nice addition. All these other titles will be seeing add-ons too though. Here is a full list:
StarCraft: Remastered — Log in to StarCraft: Remastered after March 6 to receive a commemorative 20th Anniversary UI Skin for StarCraft: Remastered.
StarCraft 2 — Log in to StarCraft 2 after March 6 to receive a special UI Skin for each race. Additionally, log in between March 6 and April 3 to receive a Portrait and Decal.
Diablo 3 — Log in to Diablo 3 after March 6 to receive Dominion's Revenge, a fearsome Battlecruiser-themed Pet.
Overwatch — Log in to Overwatch between March 6 and April 3 to receive the Sarah Kerrigan Ghost skin for Widowmaker.
World of Warcraft — Between March 31 and April 6, /salute one of the following StarCraft-themed companion pets — Zergling, Grunty, Mini Thor, Baneling, or Zeradar — to receive the "Salute to StarCraft" Feat of Strength.
Heroes of the Storm — Log in to Heroes of the Storm between March 27 and April 7 to receive a 20th Anniversary Portrait for Protoss, Terran and Zerg.
Hearthstone — Play a StarCraft-inspired Tavern Brawl between March 21 and 25 to receive three Kobolds & Catacombs packs
It's nice to see the series celebrated and these are some really nice goodies for fans to dive into. Just log in to these games during the dates specified and you'll get some nice stuff. Lovely.
Enjoyed this article? Share it!