The Witcher's Geralt Joins Monster Hunter World Next Month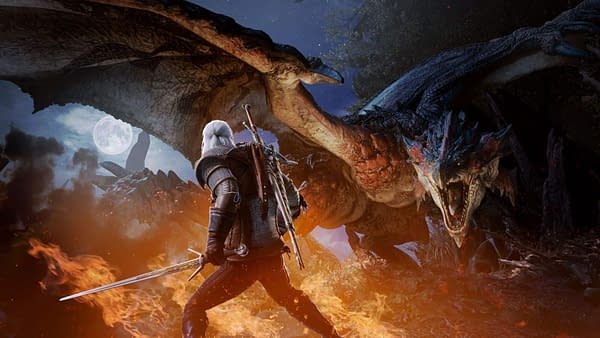 The Witcher's Geralt of Rivia is coming to Capcom's Monster Hunter World, and now we've got a date for exactly when the infamous Witcher will start adding the Rathalos to his bestiary alongside the Leshen and Cockatrice.
Geralt is coming as a free update to Xbox One and PS4 Monster Hunter World players on February 8th, 2019.
We do know that Geralt will come with some special Witcher abilities when he drops into MHW, but we don't know exactly how that will change the game. However, some of the existing monster tracking features in Capcom's latest Monster Hunter do seem heavily inspired by 2015's The Witcher III: Wild Hunt.
Geralt is best known to gamers as the protagonist of CD Projekt Red's game series, however, he is the subject of eight fantasy novels by Polish author Andrzej Sapkowski. The stories of CD Projekt Red's games do take heavy inspiration from Sapkowski's novels, but there are key differences between both. CD Projekt Red's series skips several events from the novels, adds others, and includes a few spinoffs that are nowhere to be found in Sapkowsi's books. There are also some interesting personality differences in the protagonist between versions, not all of which are subject to CD Projekt's player choice narrative system.
Netflix's Witcher TV series will be taking its cues from Sapkowski's novels.
Based on what we know of the Monster Hunter World collaboration, we'll be seeing the CD Projekt version of Geralt come to MHW.
It is unclear at this time if Geralt's inclusion in Monster Hunter will be a lasting addition to the game or a time-limited event. That said, Geralt rolls into Astera on February 8th, 2019 for PS4 and Xbox One players.