Tower Of Fantasy Adds Content Celebrating Six Month Anniversary
Level Infinite has added some new content in the latest update for Tower Of Fantasy, as they celebrate the game's six month anniversary.
---
Level Infinite has released a new update for Tower Of Fantasy next week as they celebrate the six-month anniversary with some new additions. The game will be getting the 2.3 Update on February 2nd, and with it comes a brand new character named Alyss, codenamed M-sec 2000. She is a new Special Forces agent who is highly regarded across the Security Force as they realize she is more than just the sum of abilities and talents. Which you will be putting to good use in new areas as she takes on some high-security missions. As mentioned before, the game will be celebrating six months out for the public to play, which will include some new items to get int he game, new rewards, new things to do, and a few other features. Here's the notes and the latest trailer as the update drops on February 2nd, 2023.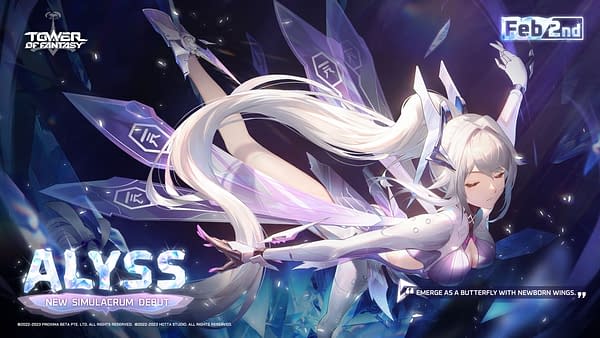 This newly appointed Special Forces Agent will be by your side for adventures. Even Captain Saki Fuwa recognizes her unparalleled talents and hard work. Alyss, codenamed M-sec 2000, is a new Special Forces agent whose unparalleled talents and work ethic are widely recognized across the Security Force. Though she has a natural talent for combat, she trains vigorously, always striving to be better than her colleagues. Following her outstanding simulation results, she has been called to take part in the Security Force's high-level missions. Alyss is a frost type with a distinctive foot-blade weapon and, as a special mechanism, she can transform herself into a fairy for infiltration.
In celebration of its six-month anniversary, Tower of Fantasy will provide players with an Initial Top-Up Bonus Reset after the Version 2.3 update. This will let players receive a double bonus upon the first top-up. Players can also participate in the official Crowd Creation Project and submit their creations to win exclusive in-game rewards.