Twitch Prime Members Can Receive DLC for Assassin's Creed Odyssey
Ubisoft and Twitch have partnered up to give out some Assassin's Creed Odyssey exclusives to those who happen to have a Twitch Prime account. A special Aegean Pirate Pack will be available for players to add to their game from now until December 5th, which are basically special skins and armor sets with a special theme to let anyone online know you're a Twitch Prime user. Kinda like special t-shirts and other items you've seen from Twitch in other games, they're strictly cosmetic and nothing that will give you a boost. We have the details of what they are and how to get them below.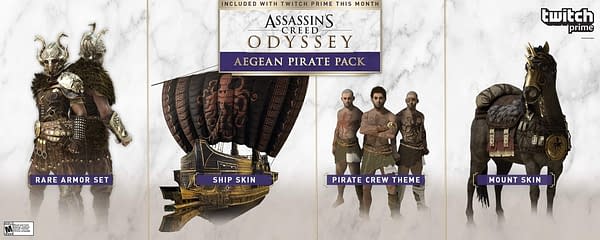 The packs contain a rare gear set, the Atoll Horse Mount, a unique pirate ship design, and a pirate crew theme.

– Aegean Pirate Gear Set: Like the waves themselves, pirates surge forth, strike fiercely and escape swiftly. Embody the ruthless qualities of the Aegean Pirate with this gear set.

– Aegean Atoll: This mount somehow enjoys being on rocking boats as much as running on dry land.

– Aegean Ship Design: The mythical creature motifs on this ship cause most merchants to quickly surrender.

– Aegean Crew Theme: For most people, the mention of pirates brings the image of savage men on the seas.

AEGEAN PIRATE PACK CLAIM INSTRUCTIONS

Step 1: LOG IN TO YOUR TWITCH PRIME ACCOUNT. Visit twitch.tv/prime and claim the Assassin's Creed: Odyssey offer at the bottom of the page.

Step 2: LINK YOUR TWITCH PRIME ACCOUNT AND UPLAY ACCOUNT. Follow the link in the claim instructions to navigate to the Ubisoft website where you'll be prompted to link your Twitch and Ubisoft accounts.

Step 3: CHOOSE YOUR PLATFORM AND CLAIM YOUR PACK. Select the platform on which you play Assassin's Creed Odyssey. If you did not link that platform to your Ubisoft Account yet, you can do it from here by clicking on the corresponding button.