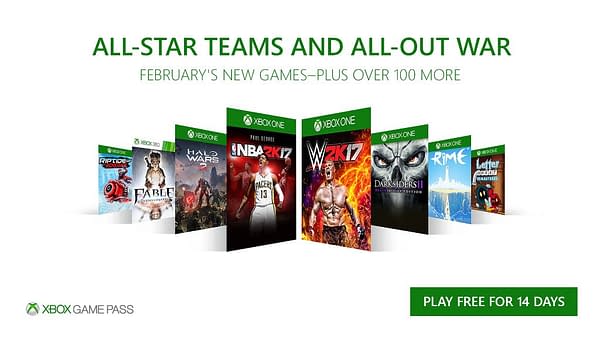 Microsoft recently announced all games from Microsoft Studios will be added to the Xbox Game Pass subscription service at launch, including upcoming pirate RPG Sea of Thieves, and while that is great news for gamers, especially those fond of single-player narrative games, some retailers are unhappy with the announcement.
GamesIndustry.biz reports that some independent stores will go as far as refusing to stock Xbox games and hardware.
The point of contention for those shops, according to the report, is that if the subscription service can offer new titles at release alongside a growing library of games, the potential for repeat business from customers is going to drastically drop.
"Essentially, it's made [our Xbox business] worthless overnight," one UK retailer told GamesIndustry.biz. "You've got the whole section sat there, and why would people buy a £12 to £15 second-hand game when they can just pay a tenner and get a massive catalogue of titles to keep them going? Effectively overnight they've wiped massive value off our company and made it not worth doing."
Of course, it is important to note Microsoft would not see a share of used games sales from these retailers. So Games Pass, from a Microsoft point of view, makes perfect sense to keep that money in-house instead of going entirely to secondary independent retailers.
"Why should we support them and sell their consoles and accessories if we're going to get very little out of it?" they said said, adding, "We might as well go where we're supported, which is Sony."
The general consensus among the many business owners is that they feel unsupported, and that the roll-out of the service will be detrimental to business overall.
"Game Pass will have an effect on all first-party titles," said another. "We have already told [Xbox's UK distributor] we will not be stocking Sea of Thieves at all. Why bother when supermarkets will throw it out less than cost, online e-tailers will break street dates – which are a joke – and ship up to five days before release cheaper than us, and now Microsoft is throwing it on Game Pass for a tenner."
Now, Game Pass hasn't frightened off all independent retailers in the UK, as many have pretty much written off their concern. After all, there are more Xbox Games than just those made by Microsoft Studios. The sentiment on that side essentially boiled down to – as long as it isn't Ubisoft, Activision, or EA going along with it, it isn't worth worrying about.
Enjoyed this article? Share it!