Unboxing Funko's Guardians of the Galaxy Vol.2 Marvel Collector's Corps Box *SPOILERS*
Only two weeks away! I am not going to lie, Guardians of the Galaxy Vol. 2 is my most anticipated Marvel film, even more so than Infinity War, or Captain Marvel, or Spider-Man, or any other of the seemingly endless upcoming releases. I was even more excited when Funko and Collector's Corps announced that their next subscription box would be Guardians themed. What is inside said box you ask? Well, I would be happy to show you! Check out my unboxing below, and then read along as we go over the contents in picture form as well:
Right off the bat, a giant close-up of Baby Groot's face greets us from the top of the box. Once you open the lid, the ever-present patch and pin greet you. this month the patch is Star Lord, sporting his familiar helmet. I wish it had been more of a profile shot, but it is still pretty cool. The Gamora pin however really pops, the colors are very vibrant and the portrait of her is pretty awesome. I love this pin!
Next we have the t-shirt. It is very reminiscent of the Star Wars Rebels shirt that came in that box: an entire team shot, on a black shirt, shaded in blue and neon colors. I love that it includes Mantis and Yondu, they are always good with their boxes and shirts at making sure everyone on a team is represented. I loved the Rebels shirt, and I love this one as well.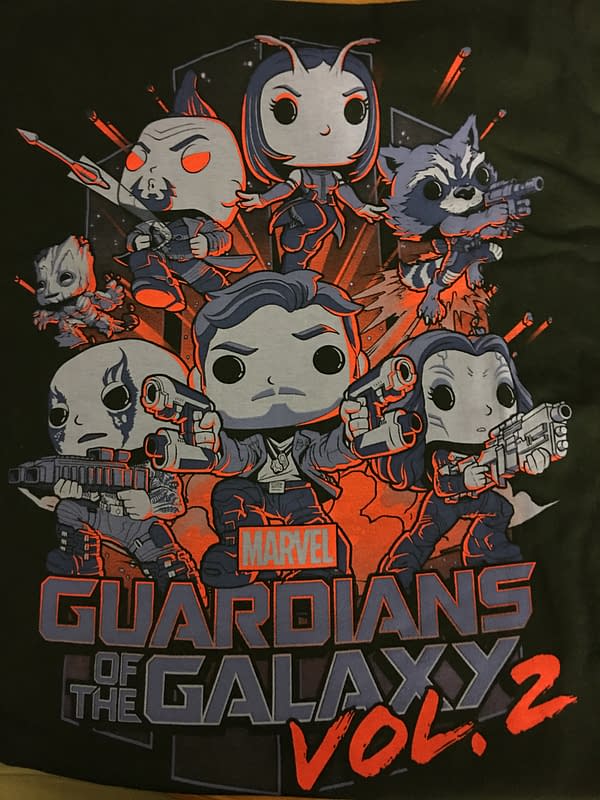 The comic included is a Baby Groot and Rocket Raccoon variant to the zero issue of the summer Marvel event series Secret Empire. In that series, which also released in comic shops this week, Steve Rogers and Hydra's plot to take over the world is finally implemented and as always, THE MARVEL UNIVERSE WILL NEVER BE THE SAME!!!! I enjoyed the first issue, and I like it even more with this cover showing the pair dancing to music coming from Star Lord's walkman. While it has ZERO to do with the contents of the comic, the cover is great.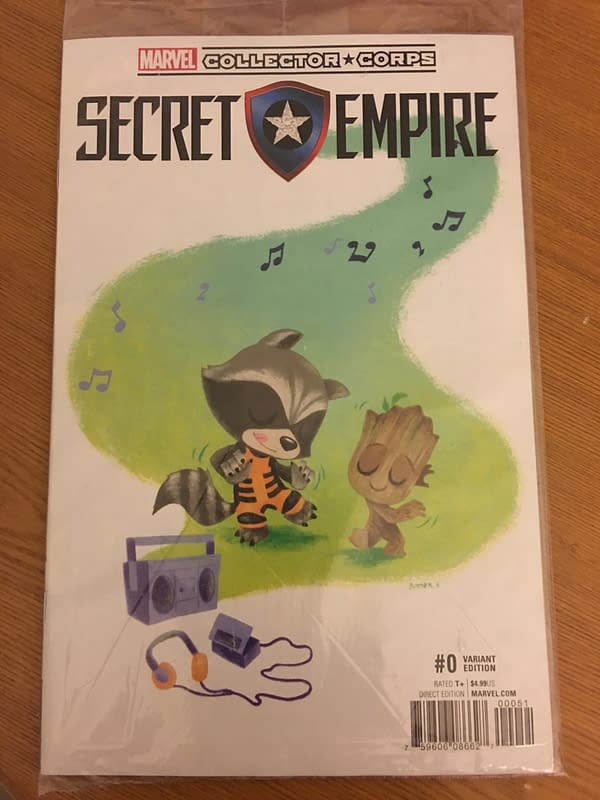 There are two main attractions in this box. The first is a Dorbz Ridez of Star Lord with the Milano ship. The Star Lord Dorbz is a adorable figure, but really is just like the other ones released, the real story is the Ridez itself. The second wing of the ship is packed separate, and it comes apart. The ship sits on clear flight base, and be careful when you take it out of the package: I lost my flat base when it came off, and without it the ship will not stand at all, as evidenced by my video. With the flat piece however, it stands perfectly as a display piece. The paint aps on mine are perfect, little to no paint run is evident. This is my first Dorbz Ridez, to be honest I am more a Pop Ridez guy, but for my only piece this one will do.
As always, these boxes are always centered around the Pop inside, and this one is pretty adorable. Rocket Raccoon with a little Baby Groot peeking over his shoulder is one of the better Pops they have done. Making both of them bobbleheads was a genius move, they didn't have to do that with Groot. My problem with this one is that at least mine does not stand very well. Since I keep mine boxed and stack them, it won't be an issue for me. Just something to keep in mind.
The next box is going to be in June and it will be Spider-Man: Homecoming themed. You can order one of your very own here right now.