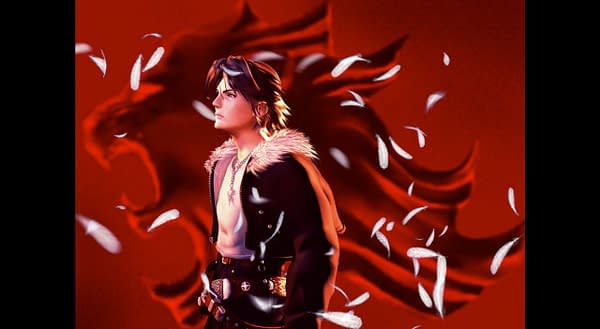 Twenty years ago today, Final Fantasy VIII released in Japan. Within days of its release in the United States, FFVIII became the best selling game in the US, a position it held for three weeks. It was a best seller in both America and Japan, and has been pretty fondly remembered by fans of the series. In fact, it was ranked the 22nd-best game of all time in 2006 by the readers of Japanese magazine Famitsu.
Final Fantasy VIII is notable for being the second game in the serious to use 3D Graphics and pre-rendered backgrounds, but was also the first game in the series to use realistically proportioned characters consistently thoughtout, feature a theme song with vocals, and eschew the use of magic points for spell casting.
Of course, there are those who didn't appreciate FF8 due to some silly gameplay elements, or because it wasn't Final Fantasy VII. That said, while FF7 is the common gamer's favorite Final Fantasy, most of the hate for FF8 comes from the "even game curse."
And then there are the fans who just prefer a different game in the series, because we all have our favorites.
Our reactions to the game here at Bleeding Cool mirror public opinion pretty perfectly.
I'm happily in the Final Fantasy VIII was fantastic camp. It was the first Final Fantasy I ever played, which means it holds a pretty special place in my Final Fantasy loving heart. Honestly, if you look back at the series, while much of the modern FF games owe their format to Final Fantasy VII, they owe even more to VIII. Its the first properly modern game in the series and has a much broader scope than FFVII. That means it isn't quite as tight of a story, but it does encapsulate that feeling of boundless adventure that the series is based upon. While I am incredibly fond of Final Fantasy VII, I think I can safely say that FFVIII learned from its predecessor very well and went on to do even better.
But I'm not the only person who likes games here at BC, so I asked some of my colleagues for their opinions as well.
From Patrick Dane:
I remember thinking Final Fantasy was dumb when I was child because it was turned based.
From Gavin Sheehan:
I was originally excited to play FF8, until I saw the damn thing was four discs long. After that, I don't remember a lot about the game, because it felt like an easily forgettable title. It actually made me want to go back to Tactics and replay it after I was done. I felt sad because I was so hopeful, and then FF9 fixed that. This was my beginning of the hatred for the even-numbered titles.
From Tom Chang:
I appreciated its ambition, but VIII was an underwhelming experience. I didn't like how stats were based on how many times you drew magic.
From Kaitlyn Booth:
While FFVIII was the first game I played FFVII was the first one I completed.

I just want an opportunity to once again remind everyone that FFIX is amazing and if you don't think so you're wrong
Enjoyed this article? Share it!