The Megalodon Shark is Now Terrorizing Sea of Thieves Players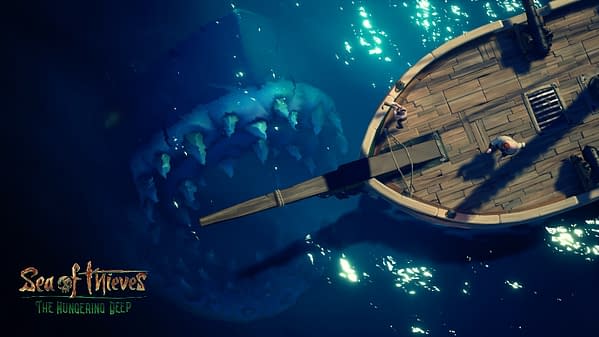 Sea of Thieves first (free) content expansion The Hungering Deep has arrived today and brought with it a massive new AI enemy that will be terrorizing players sailing around the game map. Yes, the dreaded Megalodon Shark is now around to come by and swallow your ship whole if you aren't careful. The shark is a massive boss and therefore, you'll need to team up with another couple pirate crews in order to take it out. At least, temporarily.
The Hungering Deep is part of Rare's plan to continue building the Sea of Thieves experience by regularly adding new free content to game owners, and it brings a range of permanent new content, the "fearsome new AI threat", new items and cosmetics, and a limited-time campaign.
For the next two weeks, The Hungering Deep campaign will offer players a whole new adventure where they'll unravel the mystery of the Megalodon and then face off against the massive shark in a large-scale boss battle. In order to facilitate the campaign's teamwork requirement, Sea of Thieves is getting two new tools for communication – a speaking trumpet and a flag system. So now you can communicate ship to ship without needing VOIP service. It also helps build that immersive simulation aspect of the game, as flags were a common form of communication on the high seas in ye olde pirate days.
Additionally, players will get access to a new instrument, a Drum, which will actually be a key part in uncovering the secrets of the Megalodon. Because you need drums to make the Jaws theme, I'm guessing.
Scars and tattoos are also being added in this update to allow you to further customize your pirate look with the proper body modifications. The limited time campaign also provides some special cosmetic rewards while its running, so if cosmetics are your thing, you will want to make sure you keep an eye out for what might be swimming below you.
Outside of the limited time campaign and the attached cosmetic rewards, all of the new features of the update will be remaining in the game permanently. And yes, that includes the Megalodon. So sharkboy is here to stay for a good, long while. A fact of which I am very, very grateful. Sharks are great, okay?
The Hungering Deep is available for free to all Sea of Thieves players who own the game or have access to it as part of Xbox Game Pass.
For more information on the update, you'll want to check out the patch notes, and the Developer Update video below. Or you can just go ahead, dive into the new content, and start chanting "shark bait ooh-ha-ha" as you sail around in your comparatively tiny little boat.