What's In The Box?!: Geek Fuel – November 2017
Just before we head off for Thanksgiving, Geek Fuel sent us their November box of goodies. Considering the past few months have been pretty killer, I was excited to see what this month brought me.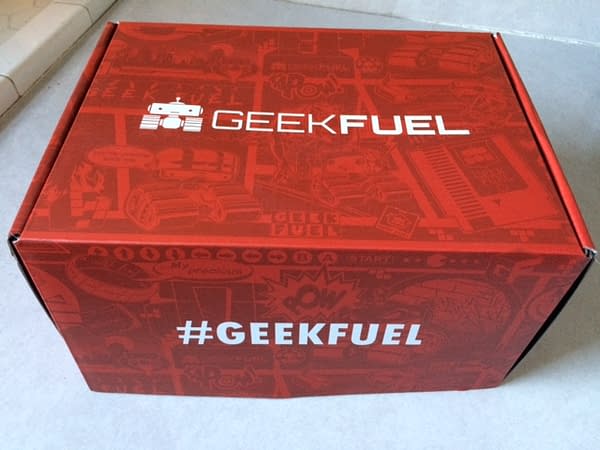 First up on the list is this awesome little Mopeez version of Deadpool from Funko. I had a chance of getting one of four different versions with alternative skin colors, but I got the traditional red and black version of the Merc with a Mouth. Like all Mopeez, his head is soft and fluffy with a bean bag base so he sits on your shelf. He's adorable and I'm happy to have him, I just wish he came with some chimichangas and katanas that weren't painted on.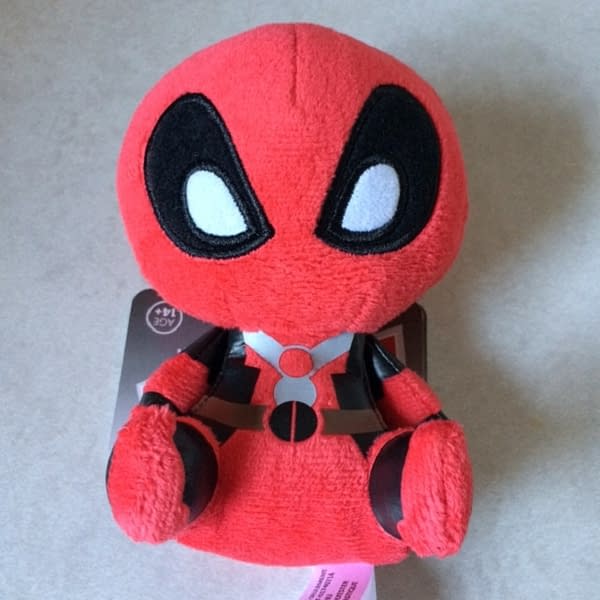 Next up is the pin for this box, again going with the Bot versions as they have since we started receiving these. This time around it's a Mortal Kombat theme, with a Sega Saturn themed box as the casing, which was a bit impressive. As you can see from the packaging, you could get one of eight different characters from the original 1992 arcade game, with Goro being the limited edition pin. I got their version of Scorpion in my box, which looks impressive with high-quality enamel for the pin.
Moving to the video game, this month we got Lumini on Steam. This is an indie adventure title that's been around for two years, where you command a group of firefly-like creatures in a swarm to both survive and essentially bring life to a harsh environment. It's a pretty good title from Rising Star Games, worth your time to check it out.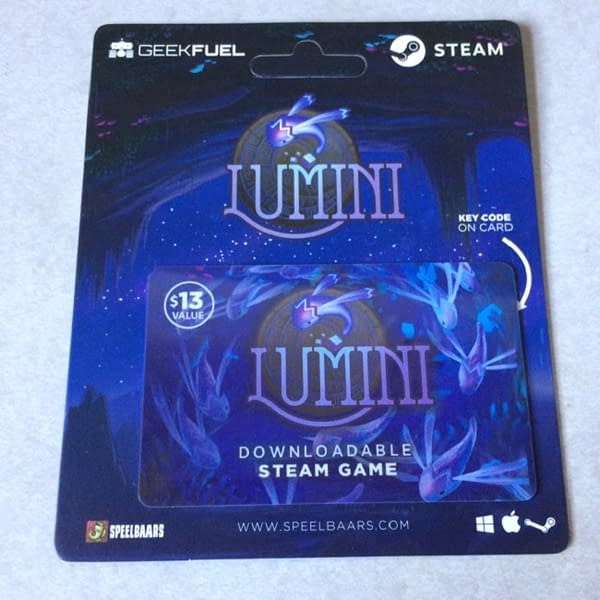 Next up is some Geek Fuel exclusive merch in Food Fight Gift Wraps. This is pretty cut and dry as you get three different types of wrapping paper from three different cartoon properties. Those being The Simpsons, Teenage Mutant Ninja Turtles, and Bob's Burgers. (Or at least, we're assuming it's Bob's Burgers, the description on the box tells us nothing. If you feel like lying to your kids and saying its Sponge Bob wrapping with food from the Krabby Patty, we won't judge.) The wrapping paper is nice, but you don't get a lot of it, so you'll need to be selective of what you wrap and who to give it to if you want it to mean something.
Moving into Star Wars territory, we get a Rogue One AT-ACT 3D wood model. This will take a few of you back to your childhood as we used to get these in the form of dinosaur skeletons, as you punched out the different pieces and put them together to form the creature. This is an awesome take on the art form as you can build it yourself into a geeky piece of work. I'll be honest, I didn't take it out and build it because I have someone I'd like to give this to and let them build it. But looking over the pieces, it's good quality wood for this kind of design.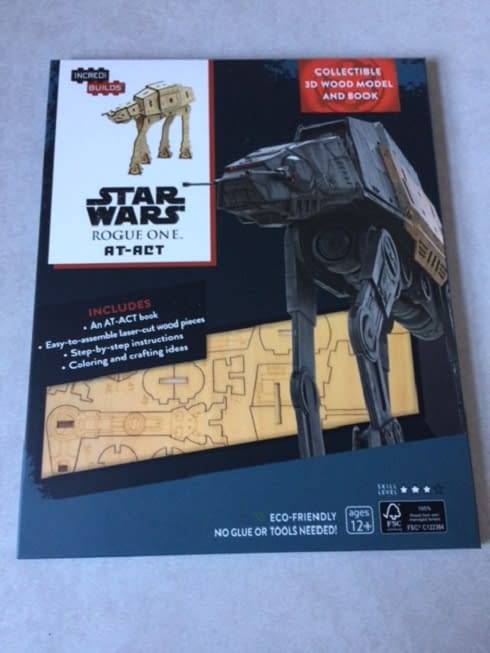 The last item is the always make-or-break item for the box: the t-shirt. This time around we get a little something from Jurassic Park…. kinda. While the design of the box it came in resembles Jurassic Park, the T-Rex head is off a bit, so it feels like they didn't get the full license to do anything official. The shirt itself is a postcard/tourist poster from Isla Nublar (the island where the original Jurassic Park and later Jurassic World is located) with the phrase "Life Finds A Way" across the top. This is an awesome shirt with a reference that people will get the minute they see that tagline, which makes it a subtle geek shirt that looks like you picked it up on vacation. Awesome job!
Overall, an awesome box for November, and some really cool stuff to be thankful for. The best items inside for me were the shirt and the Deadpool plushie, the weakest was probably the wrapping paper. The box itself was kind of light compared to previous months, but I won't hold that against them as they can't all be jam-packed all the time. A good month for Geek Fuel and I look forward to seeing what the holidays bring me.