The first big Loot Gaming box of the year come to my doorstep a few weeks ago, and considering the year we had previous where it was kind of hit-and-miss on some boxes, I was intrigued to see what Loot Crate had in mind for 2018. So let's crack this one open and see what they have store this time around. First up, getting adventure heavy as we have another Assassin's Creed figure. This time around it comes from Assassin's Creed: Origins as we get Bayek standing tall on top of a pyramid point with his eagle Vision soaring next to him. The detail on this is actually quite enjoyable as they've made him look every bit of the character they could, even though part of the character's design in these toys is to have a larger head than normal. Vision attaches to the pyramid with a small peg on one of his wings, so you can't really pose him anywhere else beyond flying beside his master. It's a pretty good representation of him and fits well with the others in the series, though I wish more care was put into allowing him to be posed in different ways.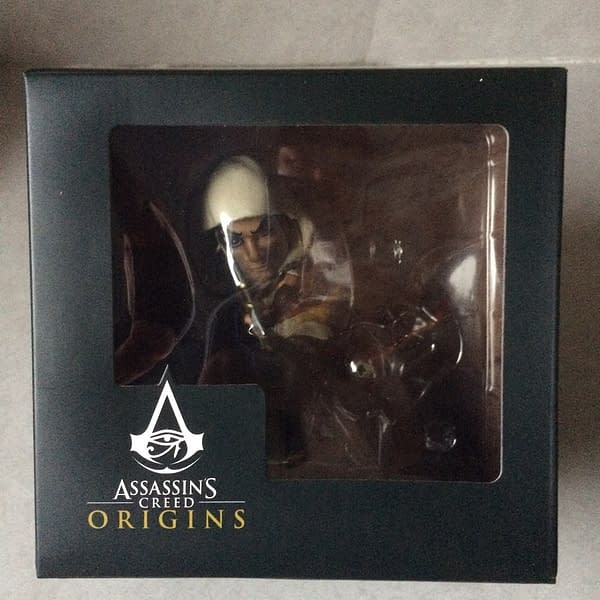 Next up, one of my favorite items from the box is this black baseball cap with the red exclamation point on the front. Clearly, the hat is a nod to Metal Gear Solid, even though there's no official branding on it. It is a curved bill, not flat, with a snapback for adjustment, so this is much more of an everyday use hat than a fashion statement. The underside of the bill has a red alert warning along with "99.99" as part of the warning. I absolutely adore this hat and can't wait to wear it around to conventions and other gaming events I go to.
Moving onto the pin, this month is also a nod to Assassin's Creed: Origins with a gold headgear pin representing the word "Stealth". This is a well-made enamel pin with what would be considered gold plating on top, but the back of it is a metal stopper instead of the usual rubber ones we've become accustomed to. The pin is just okay, and it would have been a little better to get something more related to the brotherhood.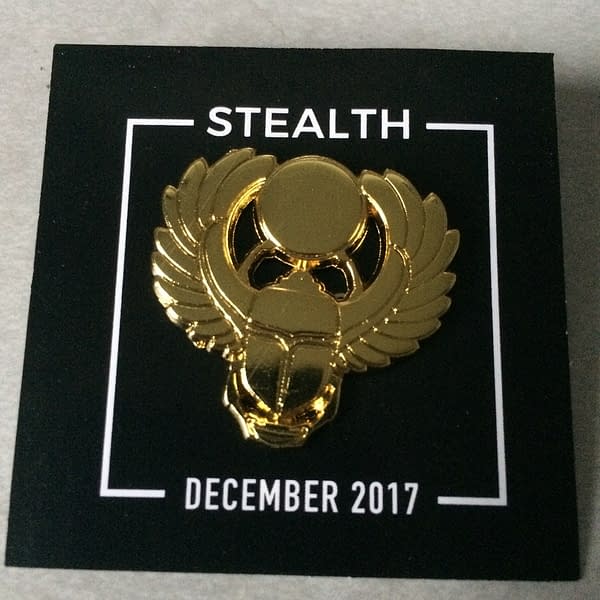 Moving onto something from Funko, this month they sent out a Pop! figure from Magic: The Gathering. This one, in particular, is Ajani Goldmane, a planeswalker introduced during the Lorwyn expansion in 2007. This figure is absolutely amazing as they get everything down in their own special way with the figure. From his weapon to his armor to his cape and tail. There isn't much to complain about on this figure, but it is a Pop figure so beyond moving the head, it doesn't really do much but sit there and pose for you. A real treat for MTG fans!
One more nod to Assassin's Creed: Origins in the form of this month's poster as you get a verticle display of Bayek with Vision on his arm. This is a great looking poster that any fan would be keen to have on their wall, but like all posters in the Crates, I wish this was rolled up instead of folded, because the creases int he poster aren't doing it any justice.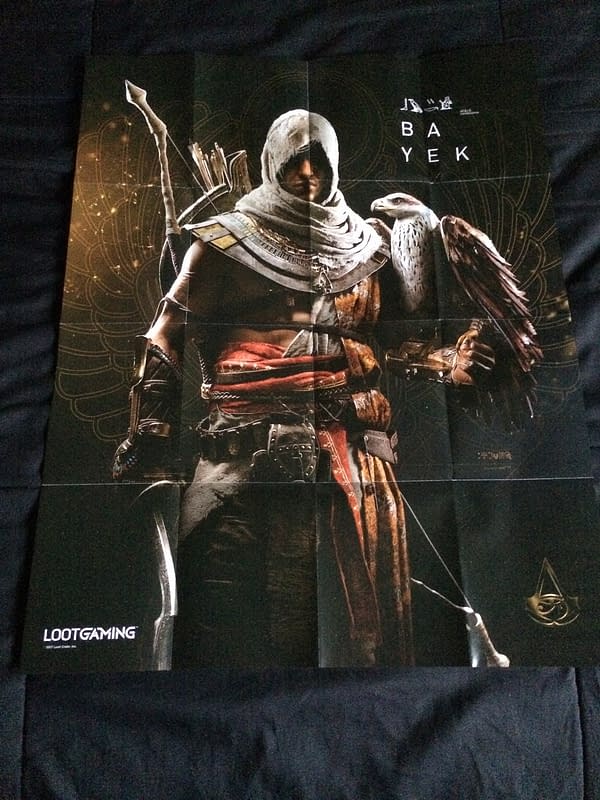 Finally, a little something for Dishonored fans in the form of the make-or-break item: the t-shirt. This month's shirt is a wanted poster for this "masked miscreant" for the murders of various individuals of note. The design itself looks great and is a nice testament to the game, but it feels weird having it on a t-shirt. A post of this would have been amazing, but when you have a shirt with all this text, you have to ask yourself who is going to sit down and read this on someone's chest and belly? It is a great concept, but put in a weird spot for execution.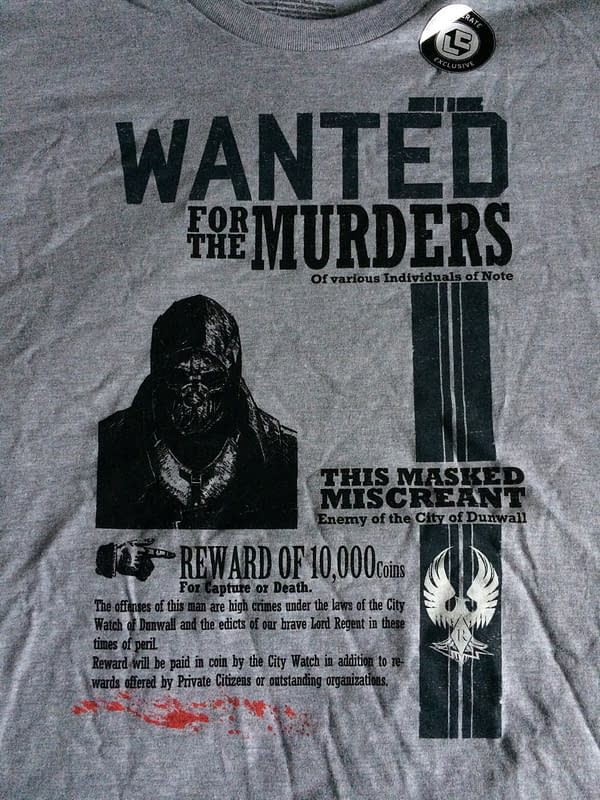 This month is really a so-so box. There are some cool items in here like the hat and the figures, but the others don't really do it for me. When half of your box feels like a dud, that's when you start to question what you're getting. That being said, this would probably be an awesome box for hardcore Assassin's Creed fans. We'll see what February has in store when it arrives on our doorstep.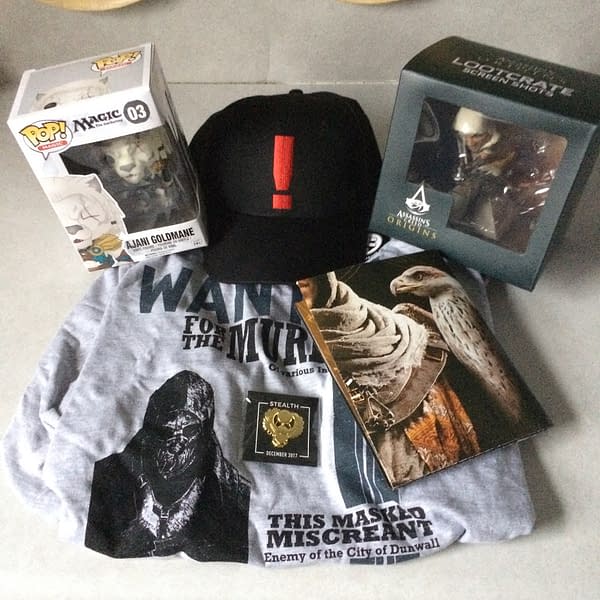 Enjoyed this article? Share it!