Wizards Showcases More "Throne Of Eldraine" – "Magic: The Gathering"
Yesterday, Wizards of the Coast, the company behind Magic: The Gathering, Dungeons & Dragons, and other games, teased that they were going to host a stream of new information for Magic's 82nd expansion set "Throne of Eldraine". This teaser itself included a few card spoilers for the Arthurian/Grimm-themed set.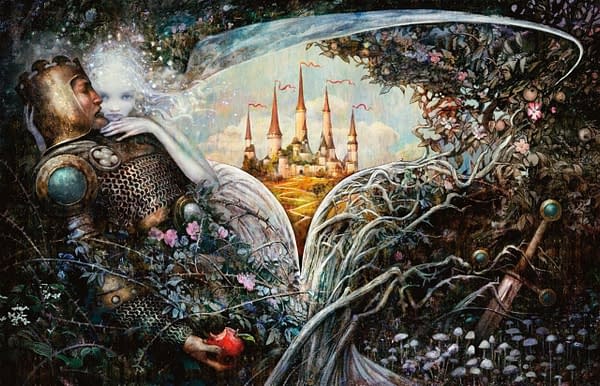 Today, the Twitch stream started with a cooking-show-esque timer screen, wherein a person was shown baking gingerbread cookies (food has been shown to be a mechanical side theme in the set). All the while, every few minutes a new card was spoiled, which lead some viewers of the stream to wonder what they'd learn from the main showing. Well, they got a few things from it, not least of which was a trailer for the Throne of Eldraine set.
After the trailer was streamed, viewers got a look at a few of the cards and products for Throne of Eldraine, including the intended commanders for their four decks being released for Brawl.
Additionally, Mark Rosewater, Magic's Head Designer, showcased what is to come for the four sets to be released in 2020. As can be seen below, after Throne of Eldraine, Wizards will be releasing "Theros: Beyond Death" in Quarter One of 2020, "Ikoria: Lair of Behemoths" in Quarter Two, "Core Set 2021" in Quarter Three, and "Zendikar Rising" in Quarter Four.

This is very exciting news for many Magic players in its own right. A return to Theros means many things, not limited to just a return of the God creature type and possibly also an Enchantment theme. Magic content creator Jimmy Wong speculated on the stream itself that we may even see a glimpse into the Theroan underworld, where the beloved character Elspeth Tirel currently resides. Will Elspeth come back? Time will tell.
Additionally, streamers got word that Ikoria is a world of giant monsters. Some forums and message boards are presently speculating that Ikoria could be a return to Japanese-folklore themes, but more erring toward the side of the everpresent Daikaiju craze than Shintoist spiritualism.
With Core Set 2021, viewers got word that Teferi, a prominent Magic character as well, will be featured as the face of the set. Beyond that, as a Core Set, we don't have much more information except that rumors are abounding that the set symbol looks a bit like the "chaos" symbol from one of Magic's supplemental expansions, Planechase.
Finally, with Zendikar Rising we will see a Zendikar that is freed from the threat of the Eldrazi, eldritch beings that were at one point sealed within the heart of the plane itself.
At any rate, focusing on the here and now of Eldraine, Mr. Rosewater also gave us a small spoiler in itself that Will and Rowan Kenrith, major characters in the set, will be given one Planeswalker card split between the two of them. This allowed the designers to put four Planeswalker characters in this set while retaining balance with only three Planeswalker cards. While some sources are allegedly spoiling this information in full card form, it is as of yet unconfirmed what this card does.
All in all, today was an exciting day for Magic: the Gathering fans, and we await what comes next.