You Could Win A Game Of Dungeons & Dragons With Joe Manganiello
You could play a game of Dungeons & Dragons with Joe Manganiello as your almighty DM. All you have to do is donate to Make-A-Wish. One of the most well-known celebrities playing D&D these days, Manganiello turned his basement into a role-playing gamer's paradise. Complete with a grand gaming table and tons of items from Dungeons & Dragons lore hanging on the walls. Hosting games every so often for some of the nerdiest people in Los Angeles. Now you can be one of the few who get to sit at the table for one of his adventures as Wizards Of The Coast and Make-A-Wish have partnered together for a special contest. As well as get a tour of WotC's headquarters in Seattle, have lunch with Joe and the crew, Here's some added info from MAW about the experience.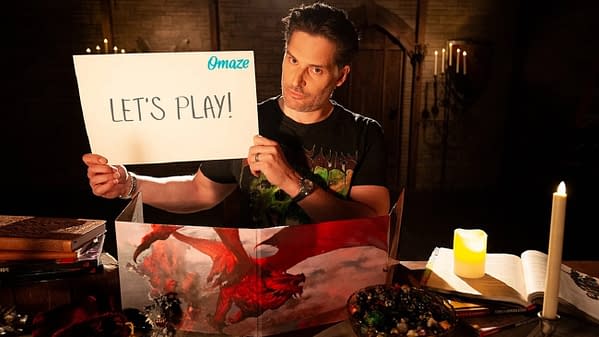 When Joe Manganiello isn't busy being a big TV/movie star, he's busy working for Dungeons & Dragons. And he's bringing you along for the ultimate D&D adventure! Your journey will begin at the Wizards of the Coast HQ, where you'll meet Joe and the incredible team that makes D&D. You'll tour the game company together, grab lunch and, of course, play Dungeon & Dragons! Will you turn Joe into a magical unicorn? Battle an angry mob of mountain trolls? Distract a treasure-guarding dragon with a choreographed dance routine? No matter where the game takes you, you'll feel like you've rolled a natural 20. (If you don't know what that means yet, trust us, it's a good thing.) Flights and hotel included!
So what do you need to do to win this? All you have to do is donate to Make-A-Wish to be entered. If you head to this Omaze link, you'll see several donation options ranging from $10 to $100. Each price point comes with a certain amount of entries. In essence, the more you donate to the cause, the more chances you'll have to win. You could donate $500 and stuff the ballot box 10,000 entries. The contest starts today and will run until June 30th at 11:59pm, with the winner being announced sometime in mid-July. If you're a hardcore Dungeons & Dragons fan, this is basically a dream package, and it's all for a good cause. It should be noted that the trip and the game will be booked when "it's both safe to travel and convenient for our partners." So if you win, it probably won't happen for a while due to the coronavirus at the moment.