A Semi-Coherent Glossary For The London Olympic Closing Ceremony
We get the same countdown we enjoyed at the beginning of the Opening Ceremony. Go see what we said about that here. This might be called a simpler ceremony than the original, less layering of cultural and historic references, but there are still one or two that might do with pointing out…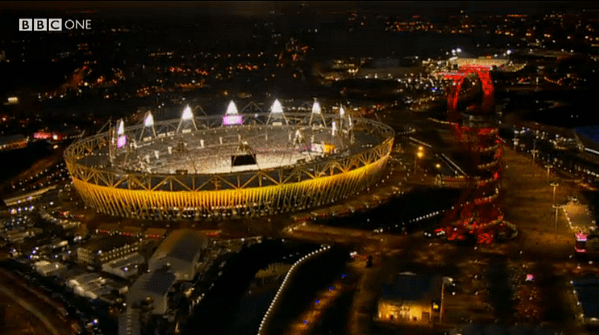 The opening shot takes a more direct aerial route across London, this time at night, to the Olympic Park and Olympic Stadium.
The crowd count the chimes of Big Ben, represented here along with many other London landmarks, roads and bridges, crashing together, creating a Union Flag (popularly the Union Jack) with art from Damian Hirst.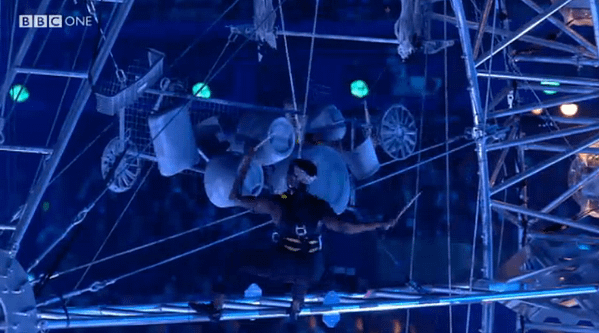 The buildings, roads, vehicles and people are covered in print, mostly from newspapers, but the headlines and text are made up of literary quotes.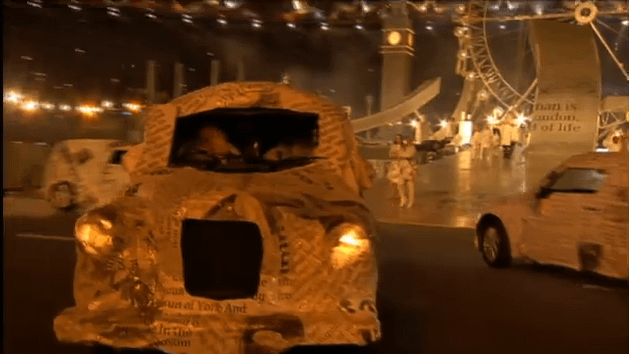 To Be Or Not To Be, This Is The Way The World Ends, A Man Who Is Tired Of London, Is Tired Of Life, that kind of thing.
Percussion and performance junk band Stomp allay on the city itself, becoming the workers who keep the city working.
Winston Churchill is played by Timothy Spall – he recently played Winston in The Kings Speech. He reads the same lines from The Tempest that Kenneth Branagh did in the Opening Ceremony as Isambard Kingdom Brunel.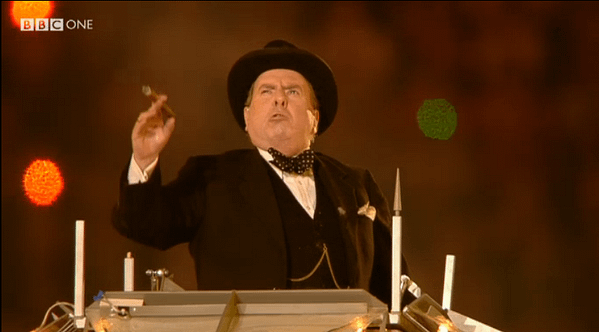 Note our familiar Reduce Speed Now signs, as traffic sprawls around London, cabbies, shoppers, school children, the day begins and then hits a traffic jam, of vehicles, people and music. Winston calls a halt before pneumatic drills provide the percussion to begin our national anthem.
We get Michael Caine counting down from the movie The Italian Job, and the three-wheeled Robin Reliant 'Trotters Independent Trading" van from sitcom Only Fools And Horses only gets the bloody doors blown off.
Reprising a famous scene from the TV show, Delboy and Rodders (not David Jason and Nicholas Lyndhurst who portrayed them in the actual show) dressed as Baman And Robin jump out and run off. Possibly chased by Warners lawyers.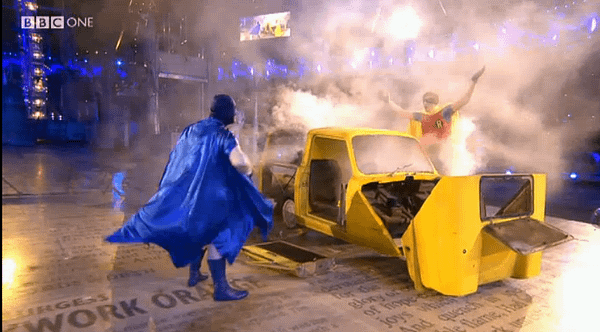 Madness perform Our House. Similar themes here to Frankie And June Say Thanks Tim from the opening ceremony. Other performers give us the Madness walk, and the Saxaphone player takes to the sky, as in the music video.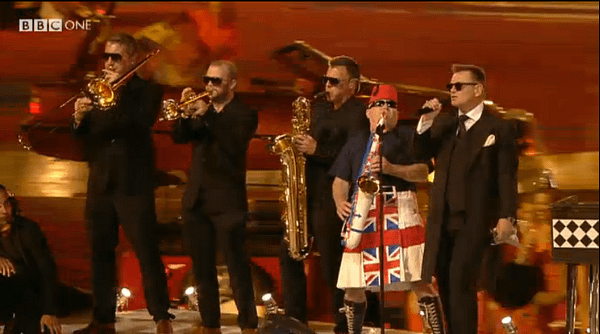 By now, the over all vibe is of a Great British street party, and we have dancers around tables as though taking part in such a celebration. The definitive street parties of my generation would have been the '77 ones, but it was another Jubilee this year, so we had some more. And I think we had some for the wedding last year. At a push, you could probably get us to have some more tomorrow to mark the end of the games. We like them.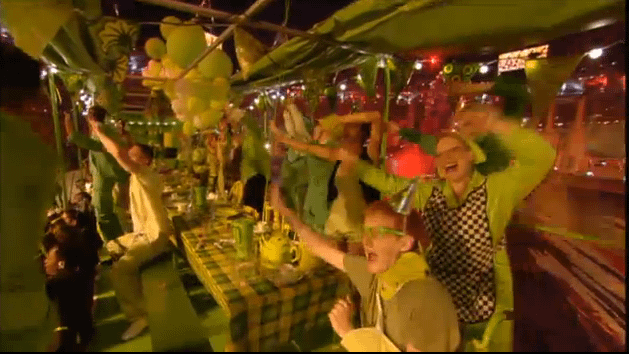 The schoolgirls are dressed in the popular image of Ronald Searle's St. Trinian's girls; the boys are somewhat Billy Bunter – referencing the most deeply ingrained images of schooling in British popular culture (save perhaps that sausage on a fork from Grange Hill).
The Guards Division marching bands perform Blur's Parklife.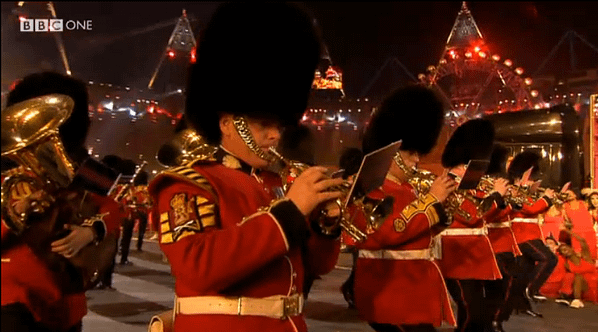 The Pet Shop Boys appear in traditionally bizarre gears, driven round the studio by pedalos driven by mean wearing orange triangles on their heads. This is reflective more of the Pet Shop Boys than Britain, but the procession of musical acts in this fashion, around these roads, is resonant of our street festivals, such as the one in Notting Hill every August Bank Holiday.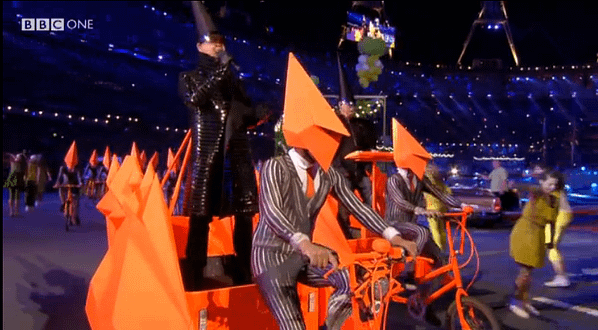 One Direction, popular British boy band play. Thanks to Rich's seven year old daughter Eve for identifying them to us.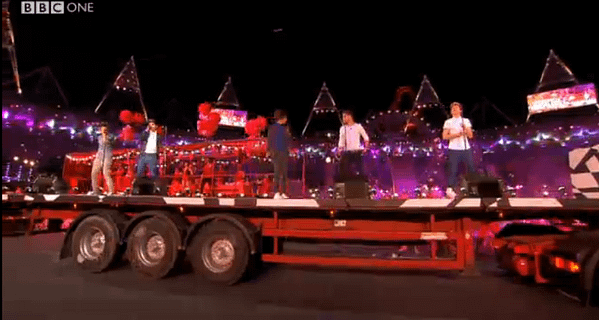 Stomp give us London at rush hour, putting out the bins, tidying the streets. We get a journey home via the Beatles music and Ray Davies sings us his Kinks hit Waterloo Sunset. It's a love song to London, and makes reference to the affair Terrence Stamp and Julie Christie had when filming Far From the Madding Crowd, meeting by the clock at Waterloo station – in Davies' narrative, anyway.
The white boxes represent each Olympic event apparently. There's over 3oo of them and together they add up to something – with echoes of a podium, but also relating to Running Up That Hill, the Kate Bush song we are listening to.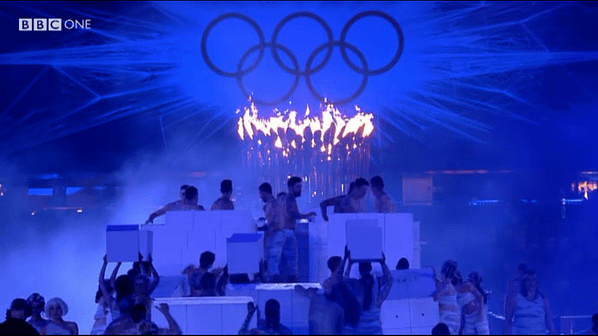 The athletes enter. They are dressed in the colours of their respective Olympic uniforms and so the red and blue of the Union Flag become something more varied. A nice visual metaphor for the pooling of all these peoples in London for the games.
Queen asks is this the real life? Is this just fantasy? The reverb graphics you see come back a few times – the idea of an image built out of a wavelength, out of the music.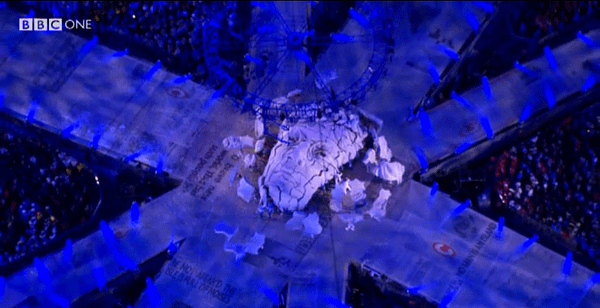 Imagine by John Lennon, brought back from the dead for one last performance, his face created my many people. We imagine him. The lyrics of the song only underscore the boundary-breaking inherent in the recolouring of the flag in the previous minutes. This version of Imagine, by the way, was remastered and mixed by Yoko Ono especially for tonight.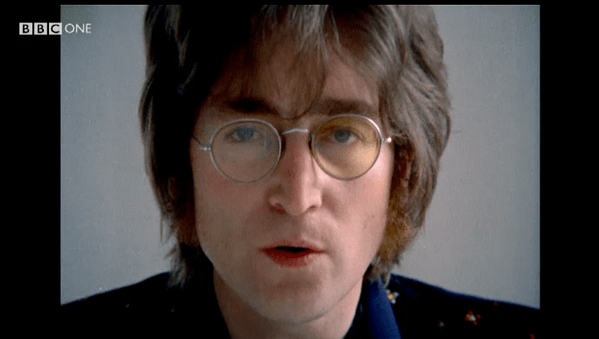 George Michael sings about Freedom, everyone gets excited, then he plays his new single and heart rates went down a little.
The Kaiser Cheifs play The Who's Pinball Wizard, from the rock opera Tommy, with imagery of Mod culture, the vespas, the RAF roundel or "target" symbols, the haircuts – all more suitable to their other rock opera, Quadrophenia. Notice how the mods on the vespas are a little older than many of the volunteers? Actual mods, I reckon.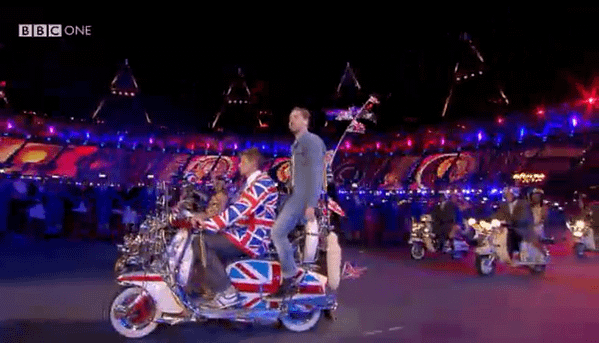 It's worth noting that Bradley Wiggins who won a gold medal for Team GB in the men's cycle time trials, is an actual practising mod and he has the roundel on his helmet and everything.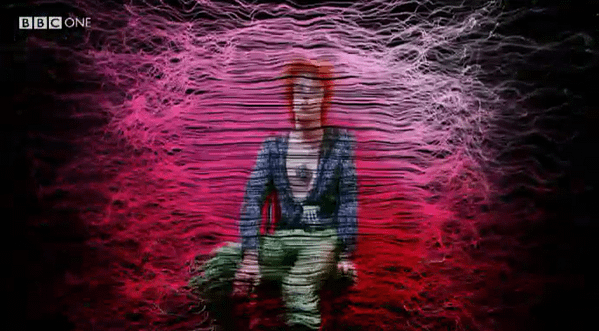 We get a David Bowie medley, with interrupting noise breaks, and this brings on a tribute to British fashion with Kate Moss and Nami Campbell… and a song that equates fashion with fascism. Glad that Bowie can provide the subtext here. Wish he was there to provide a bit more of the text too.
Annie Lennox sings Little Bird while on a chariot to hell.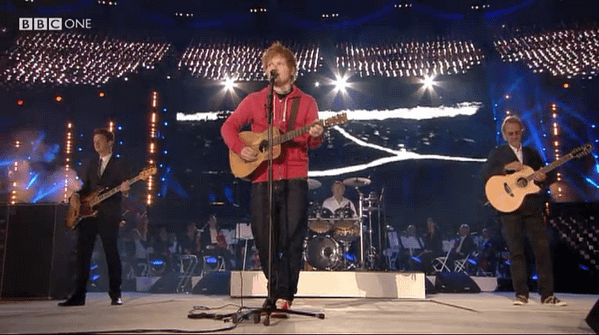 Pink Floyd's Wish You Were Here, performed by a whole bunch of people who aren't from Floyd – Ed Sheeran singing, Mike Rutherford from Genesis; and one who is – Nick Mason.
Russell Brand sings Pure Imagination, an Anthony Newley composition from Willy Wonka and The Chocolate Factory. And doesn't get his knob out. The van was immediately reminiscent of a scene in Magical Mystery Tour and lo and behold, Brand then plays the role of the Beatles ringmaster for I Am The Walrus.
Fatboy Slim waves from within a big seethrough octopus. As he would.
Jessie J, Tinie Tempah and Taio Cruz are the new Bee Gees.
Spice Girls arrive in cabs, then leave on them. Thankfully only Mel C is given a proper microphone. Geri isn't wearing her Union Flag dress which is a shame, it's right up there with Liz Hurley's dressing pin thing as a 'classic' bit of British paparazzi work. And yes that is London mayor Boris Johnson getting down and jiggy to them. Corwumph!
Liam Gallagher sings Wonderwall with an orchestra and Beady Eye. Noel is nowhere to be seen. Expect him to reappear later, popping up to murder his brother.
Mr. Blue Sky by ELO plays as some magnificent men and their flying machines take to the skies.
Eric Idle of Monty Python is conjured up from that last stunt and gives us a rendition of Always Look At The Bright Side Of Life from the locally-banned Life Of Brian, complete with a Bollywood interruption. Idle was the first person to say "shit" tonight, though I expect NBC will beep that.
The performers were apparently paid £1 each for their services. This means Eric Idle has essentially done this for free. That… can't… be… right… can it? Maybe he negotiated a couple of billion somehow.
Another man back from the dead, Freddie Mercury, eggs on the crowd to follow him, with moonlighting astrophysicist (geddit?) Brian May giving the crowd an instrumental Queen until Jesse J helps out with We Will Rock You.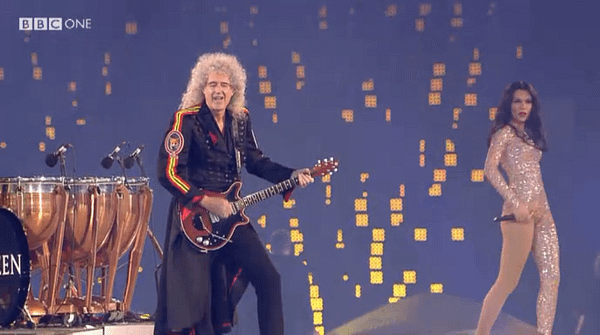 Coming back after the break from all the pop music we get Take That doing their song from Stardust which prompted Mrs. Connelly to want to watch Stardust again. Note that Robbie Williams was not with the band. These days it's never entirely clear when he's a member of the group or when he's off growing a big beard and talking about UFOs with Grant Morrison.
And yes, after the Kaiser Chiefs fake out… we actually get The Who. They start with Baba O'Riley, last heard at the beginning of the opening ceremonies.
But if that is the climax, as it seemed it might be, we're in for a Return of the King number of epilogues. First up: The Who carry on with Tommy, from their rock opera of the same name. And then everyone joins them on stage…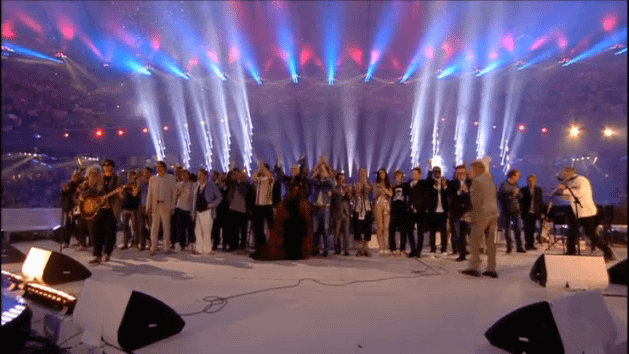 By this point there was no narrative at work, it was literally a big knees up. Think of it as an expensive, outside broadcast special of Top of the Pops, the UK's longest running music TV show that certain members of the Bleeding Cool crew (*cough* Connelly *cough*) still mourn.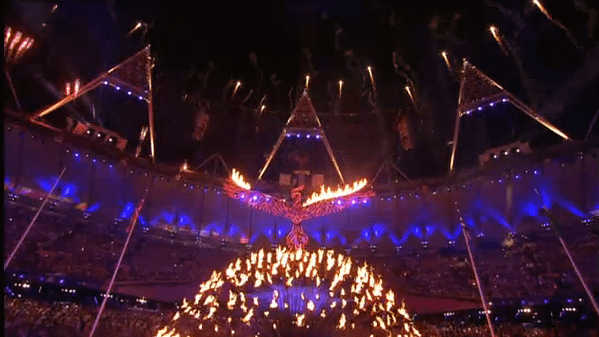 Time to put the flame out. And kill Jean Grey.
So… what did we miss?