Andrew Bowser A.K.A. "Onyx the Fortuitous" Talks Sundance Film
Onyx the Fortuitous and the Talisman of Souls writer and director, Andrew Bowser, chats with us about Sundance and creating absurdity in film.
---
Andrew Bowser, also known as his character Onyx the Fortuitous (The Weird Satanist Guy), is an American writer-director known for his odd brand of character-based comedy. Bowser has directed four independent features and countless viral videos and short films that have garnered millions of views online. His recently premiered project, Onyx the Fortuitous and the Talisman of Souls, which he wrote and directed, was a narrative feature in Sundance's Midnight selection for 2023. Bowser speaks with us about the creative process that went into the film, what excited him about filmmaking, and much more!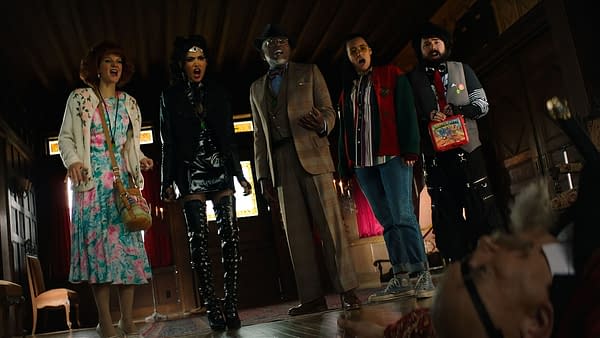 Amateur occultist Marcus J. Trillbury, aka Onyx the Fortuitous, is struggling. He's misunderstood at home and work, but his dreams for a new life seem to be answered when he lands a coveted invitation to the mansion of his idol Bartok the Great for a ritual to raise the spirit of an ancient demon. He excitedly joins Bartok and his fellow eclectic group of devotees as they prepare for the ceremony, but pretty quickly, it becomes apparent everything is not as it seems. As Onyx and his new friends fight to keep their souls, he must decide what he's willing to sacrifice to truly meet his destiny.
What has been your experience with Adobe Premiere Pro editing film before Onyx the Fortuitous and the Talisman of Souls, and how has it changed since completing your work?
I love Premiere, and editing this film in Premiere made me love it more! I cut the entire thing on a laptop, and the software made it easy as I toggled between my proxy files and my RAW! I could also move quickly, leaving on-screen notes for VFX and even timing out VFX with random shape and color creations. I would also do temp ADR on the go with a podcast mic that integrated seamlessly into Premiere. All in all, Premiere allowed me to be lean and light on my feet!
Are there any filmmakers that inspire you? And why that person?
I am very inspired by the silly and the sad. So for me, my "papas" are Joe Dante and Michael Haneke, respectively. I hope to meet them both one day and hear from them each "You…you are my son". I think it'll happen. But yes, I love the blend of the absurd into the grounded – which they both do in their own unique ways.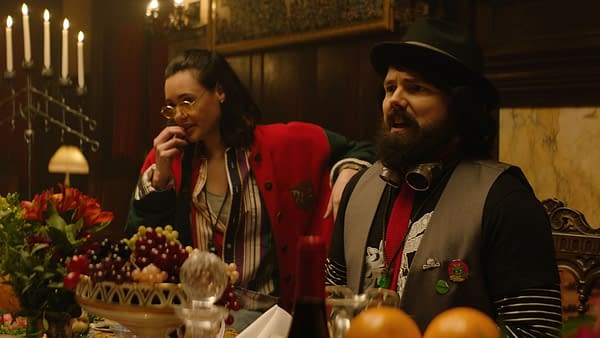 What excites you about filmmaking and why?
I love project management! I'm not kidding. I love the big picture "bird's eye view" POV that filmmaking requires. You can hyper-fixate on every detail, but you also MUST step outside of yourself and MAKE YOUR DAY. I love that balance, getting what you want, scratching those creative itches – but also being pragmatic and practical regarding getting the footage in the can and moving on. Filmmaking is romantic and dreamy, but it is also work work work, and I love the work!
You've grown a large following through TikTok for your character, Onyx the Fortuitous; in what ways has the platform helped you or inspired you?
It has taught me never to turn my nose up at "new" media or new platforms. The platform is what YOU, as the creator, make of it. You can dance on Tik Tok, make comedy sketches, hone your voice as an influencer, or show a slice of your life as a person who isn't a performer. You can devise creative ways to make the delivery method work for YOU and be smart when aligning with the algorithm.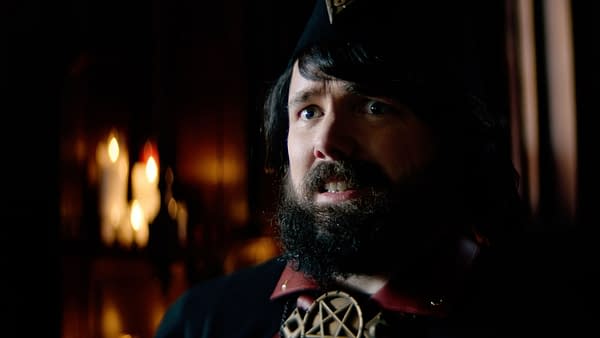 How do you prepare to make a dark comedy like this one? What's important to remember when doing so for you personally?
Remember the emotion. Heart is at the center of all great comedies! Be funny, but (for me) not at the sacrifice of grounding things in a reality we can believe. We can see monsters, mystics, spells, and portals! But all along the way, we have to engage with it on an emotional level, feel the stakes, and most importantly…care about what is happening on screen and WHO it is happening to!