In the fast-paced world of advertising, it's not uncommon for a company to use inspiration from an already existing piece. Usually this could include nods to layout, font, and color, maybe, but a pretty sizeable duplication of an artist's work isn't a normal thing, especially for Disney.
French Artist Hachim Bahous is claiming that Disney has, without the artist's consent, used his previous work for a Sony music release as the basis for their Solo: A Star Wars Story posters.
Bahous posted this side-by-side comparison on Facebook, and it's quickly gaining attention: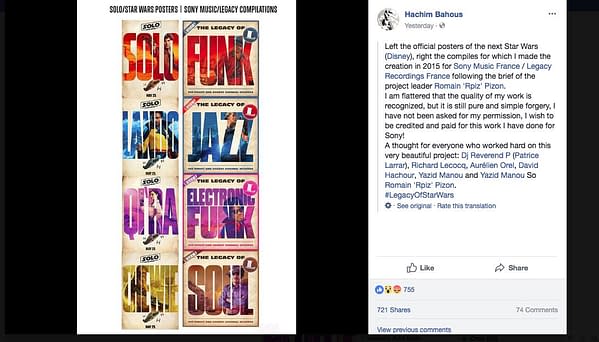 The post (originally in French but translated by the social media website) reads:
Left the official posters of the next Star Wars (Disney), right the compiles for which I made the creation in 2015 for Sony Music France / Legacy Recordings France following the brief of the project leader Romain 'Rpiz' Pizon.

I am flattered that the quality of my work is recognized, but it is still pure and simple forgery, I have not been asked for my permission, I wish to be credited and paid for this work I have done for Sony!
A thought for everyone who worked hard on this very beautiful project: Dj Reverend P (Patrice Larrar), Richard Lecocq, Aurélien Orel, David Hachour, Yazid Manou and Yazid Manou So Romain 'Rpiz' Pizon.
A simple search on Amazon results in the 2016 Legacy of Electronic Funk compilation, released by Sony Music Canada Inc. and labeled as an "import". The other albums listed in the above image are easily found too.
Obviously the art has been around since at least October of 2016, then, and more than likely was turned in by the artist to the company way before packing happened.
This isn't the first time this type of artwork has been used, though, it's worth noting. One of the original Ian Fleming James Bond novels Man with the Golden Gun had a 1965 hardcover jacket with a pretty similar style.
That's not to say someone before then hadn't used the general layout too, but in this case, it sure looks like Disney more than 'borrowed' from Bahous's art.
We're diving into this in more detail and tracking down the company responsible for creating the posters for Disney — we'll let you know when we get some updates on this situation.
Enjoyed this article? Share it!