Avengers 4 Finishes the Story Started in Captain America: The Winter Soldier
When it comes to managing one of the biggest movies of all time, it's probably a good thing that Marvel hired the Russo Brothers to do the directing job. There is just so much to do in a big movie that having someone to help must have made things at least a little easier. Anthony and Joe Russo recently sat down with Andy McCarroll Movies and talked about the writing process for such a big movie with so many characters.
"The storytelling is always paramount to everything we do," said Anthony Russo. "So we sit in a room with [Christopher] Markus and [Stephen] McFeely for many, many months and we lay the characters out on a wall. We write ideas beneath them about where we can take the characters, how we can combine them, and we sort of slowly find out way through the film. It's all about the potency of the narrative and it's all servicing that and it's figuring out how you take individual character and then blend them into that narrative. How they feed into that narrative or how that narrative is feeding into them on a character level."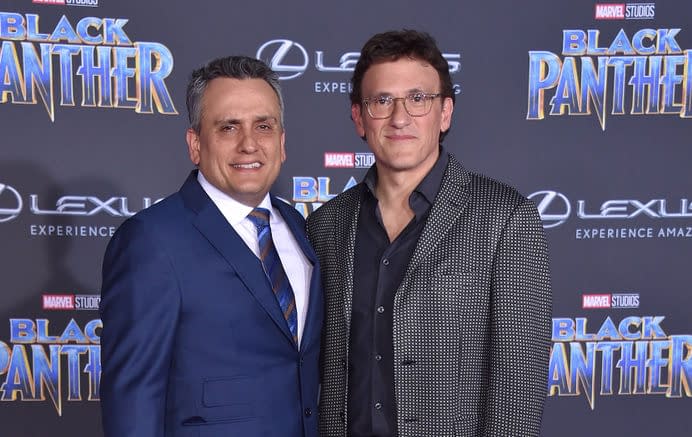 By the time the credits roll for Avengers 4, the Russos will have completed their fourth movie in the Marvel Cinematic Universe. Each movie might be very different, but there is a narrative through line that we can see start in Captain America: The Winter Soldier and end in Avengers 4.
"For us, this was the challenge of telling the story but also completing the personal journey that we started as storytellers in Winter Soldier," Joe Russo said. "So the story that began in Winter Soldier and that ends in Avengers 4 is a, there's a very personal arc there for us. I think you'll understand our point of view as filmmakers and who we are as people when you watch all four of those movies together."
Sometimes it's hard to believe that these two were best known for their work on Community and Arrested Development before taking on two of the biggest action movies of all time. Thus far their two other MCU movies have been fantastic. We'll have to see if they managed to get it right for Avengers: Infinity War and Avengers 4.
Summary: As the Avengers and their allies have continued to protect the world from threats too large for any one hero to handle, a new danger has emerged from the cosmic shadows: Thanos. A despot of intergalactic infamy, his goal is to collect all six Infinity Stones, artifacts of unimaginable power, and use them to inflict his twisted will on all of reality. Everything the Avengers have fought for has led up to this moment – the fate of Earth and existence itself has never been more uncertain.
Avengers: Infinity War, directed by Anthony and Joe Russo, stars Robert Downey Jr., Josh Brolin, Mark Ruffalo, Tom Hiddleston, Chris Evans, Chris Hemsworth, Jeremy Renner, Chris Pratt, Elizabeth Olsen, Sebastian Stan, Benedict Cumberbatch, Paul Bettany, Chadwick Boseman, Benedict Wong, Zoe Saldana, Karen Gillan, Vin Diesel, Dave Bautista, Pom Klementieff, Scarlett Johansson, Don Cheadle, Tom Holland, Bradley Cooper, Sean Gunn, and Anthony Mackie. It will be released on April 27th.