Big Lebowski Poster And Pins Available At Mondo Tomorrow
The Big Lebowski is getting the Mondo treatment for the first time tomorrow. Both a new poster by artist Marc Aspinall and new enamel pins by DKNG Designs will pop up on Mondo's The Drop mini-site tomorrow, April 21st, at 11 AM CST. The poster perfectly depicts The Dude at his bar in the living room with everything necessary to him- his White Russian, and his rug. The only thing missing for me is the check for his gallon of milk. It will cost $60 and is limited to only 200 pieces. The three pins available are of Maude, The Dude, and Donnie's ashes blowing out of the coffee can. Each comes on a rug cardback. They will run you $10 a pin. You can check out all of the new Big Lebowski stuff below.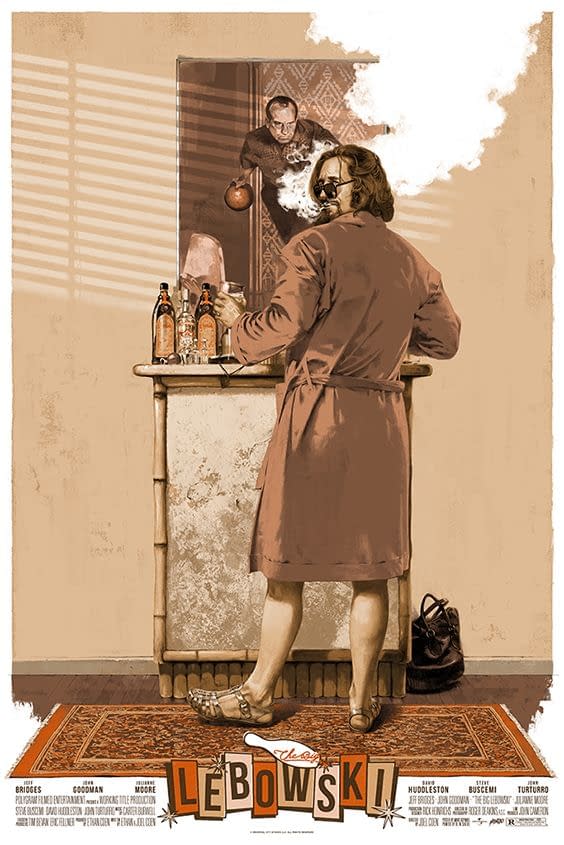 Mondo's New Big Lebowski Poster
"Tomorrow, we'll have a new (and somehow our first) poster for one of the Coen Brothers' best films: THE BIG LEBOWSKI by Marc Aspinall! From his rendering of Jeff Bridges' iconic "The Dude" to the gorgeous detail in that beautiful rug and White Russian station, Marc really snipped the toe for this amazing work of quasi-noir art, and we couldn't be happier to abide. Marc had this to say: "I came to Lebowski pretty late; but I was well aware of its cult status- which is pretty daunting to take on. Here's my homage to "the" drink "the" rug, and that noir detective role The Due stumbles into."
New Pins Are Available As Well
"Careful, man – there are enamel pins here. The dynamic duo DKNG Studios have struck gold with three pins for THE BIG LEBOWSKI presented on the perfect rug that really brings the room together – The Dude, Maude, and Donny's Ashes. Dan and Nate skillfully capture likeness on a minute scale and employ a variety of metals and finishes to create some seriously impressive designs."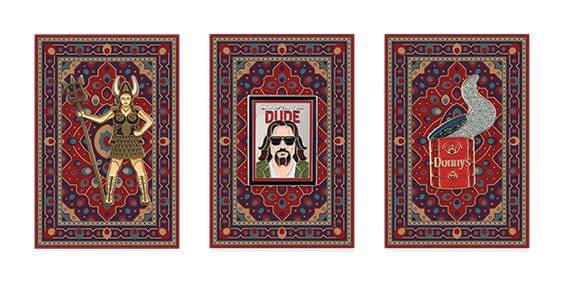 All of these products will be available on The Drop tomorrow. As usual, you better be ready, because these are going to sell out extremely fast. Especially the poster. It will really tie the room together.
---
---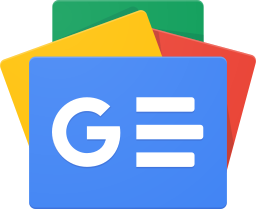 Stay up-to-date and support the site by following Bleeding Cool on Google News today!