Black Panther: Breaking Down the Royal Family Tree
We are days away from the release of Marvel's Black Panther. The character, like a large number of the heroes and villains in the Marvel Universe, was created by Stan Lee and Jack Kirby. He made his debut in Fantastic Four #52 in July of 1966. The Black Panther is T'Challa, king and protector of the fictional African nation of Wakanda. It is the home to the world's supply of vibranium, a rare metal used to make Captain America's shield and considered very valuable.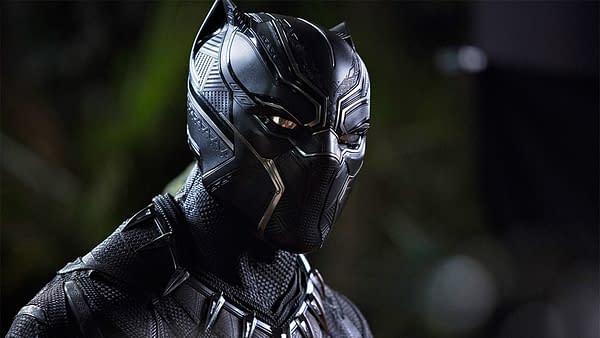 Black Panther (Boseman) was first introduced into the MCU in Captain America: Civil War, where the Winter Soldier (Sebastian Stan) was framed for the murder of his father T'Chaka, putting T'Challa on the throne and into the role of the Black Panther. He would eventually learn the truth and offer the Soldier sanctuary until they could remove the mental programming he had suffered. Besides the solo film launching on Friday, Black Panther will be making an appearance in Avengers: Infinity War this May.
To help fans understand some of the characters and connections involved in the Black Panther's world, they have put together this video featuring the Royal Family Tree. It goes all they way back to Bashegna, the first Black Panther, and it includes some characters you don't normally see on a family tree, like enemies and body guards. But it gives a nice overview of the characters we'll be seeing on the big screen shortly.
Black Panther is directed by Ryan Coogler and stars Chadwick Boseman, Michael B. Jordan, Lupita Nyong'o, Danai Gurira, and Martin Freeman. It will be released on February 16th.