"Black Widow" Writer Jac Schaeffer Talks the "Very Visceral" Fight Scenes
We all knew that the Black Widow was happening but at San Diego Comic-Con recently we finally got some more information. We saw some early footage and confirmation as to who is playing who. We still don't have a ton of information but Inverse got the chance to interview writer Jac Schaeffer about the script and while most people have thought this movie would take place between Avengers: Infinity War and Avengers: Endgame it turns out that isn't the case.
After the Avengers' clash at Leipzig/Halle airport, Natasha is "very much on her own and over the events of the Black Widow movie; she has to reckon with some of the red in her ledger," Schaeffer explained.
We don't see Natasha until we see her pair up with Captain America and Falcon in Infinity War. There is quite a bit of time between the moment Tony declares that she is a fugitive for helping Steve and Bucky escape in Civi War to the Scottland fight against Thanos' Children. This movie is going to fill in those gaps. Schaeffer admitted that she wasn't that into superhero movies before working for Marvel on not only Black Widow but she also worked on the Captain Marvel script and is showrunning WandaVision for Disney+.
"I wasn't a huge superhero movie fan before starting to work [at Marvel], but now that I'm doing it, there's just so much opportunity to make big, positive statements," Schaeffer says. "Especially something like Captain Marvel and Black Widow, to have these female-centered stories — I just can't not be involved in that."
Schaeffer got to see some of that hate when Captain Marvel came out but she isn't worried about a similar situation happening with Black Widow.
"When people react with hate, it saddens me. I think it's a shame," she says, "But that's not where I want to put my energy. I'm not interested in the loud, sour-grapes voices."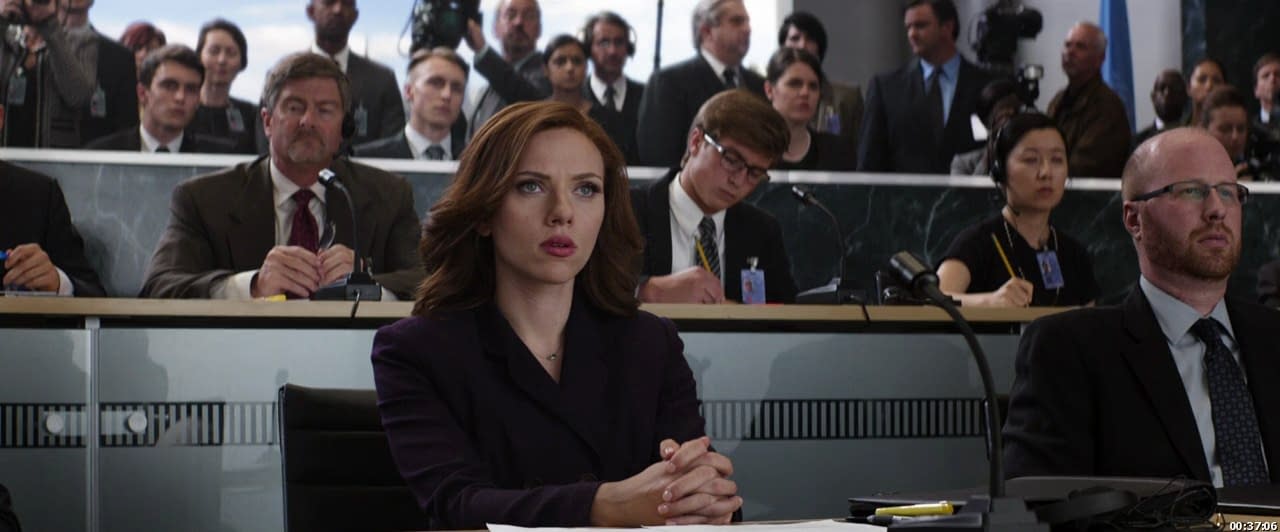 One of the things that sets Black Widow apart from other Marvel movies is that the hero has no superpowers and no special tech. We've had very human characters running around the Marvel Cinematic Universe for years but either haven't had a movie yet or they have special tech to compensate for being only human. The lack of powers means that the fights are going to be different in Black Widow.
"The fighting [in Black Widow] is a lot of close contact, hand-to-hand combat," she says. "It's very visceral. There's a lot of aggression and power in a very human way that I find really satisfying and really exciting to watch, but it's the polar opposite to writing for super-powered characters."
However, while these fights are going to be intense, the fight we saw in Hall H looked like something out of a Bourne movie with better editing, that doesn't mean violence is the only way Schaeffer likes to see conflict resolution in superhero movies.
"I would like to see alternatives to violence in superhero movies." She added, "Maybe I would qualify that by saying, alternatives to glamorizing guns and weaponry. That's one of the reasons that I love Captain Marvel — it's all about inner power. And the destruction is not at the expense of human life."
Black Widow, directed by Cate Shortland, stars Scarlett Johansson, Florence Pugh, David Harbour, O. T. Fagbenle, Rachel Weisz, and Ray Winstone. It will be released on May 1, 2020.