Bleeding Gen Con Day One – Tales Of Exhaustion And Games Gathered
By Christopher Helton Thursday was the first day of Gen Con, even though after travel time, it was only a half day for me. Despite jet lag, a lack of food and general exhaustedness I soldiered on and went head first into the first day of the convention.
There were a lot of people here on Thursday. A lot of geeks, gamers and cosplayers all wandering the Indiana Convention Center looking for that new game, or for people to play in one of their favorites. Board games. Card games. Roleplaying games. Games are everywhere this weekend and everyone loves it. The Exhibitor Hall this year is bigger than any previous Gen Con that I have attended. Even after a few hours wandering the floor, I did not find the booths for Monte Cook Games or Onyx Path. Those are goals of mine for Friday. I did have a fanboy moment when I came around a corner and saw Glorantha creator and Ruequest sheppard Greg Stafford sitting in a booth. Maybe Friday I will be able to say something to him.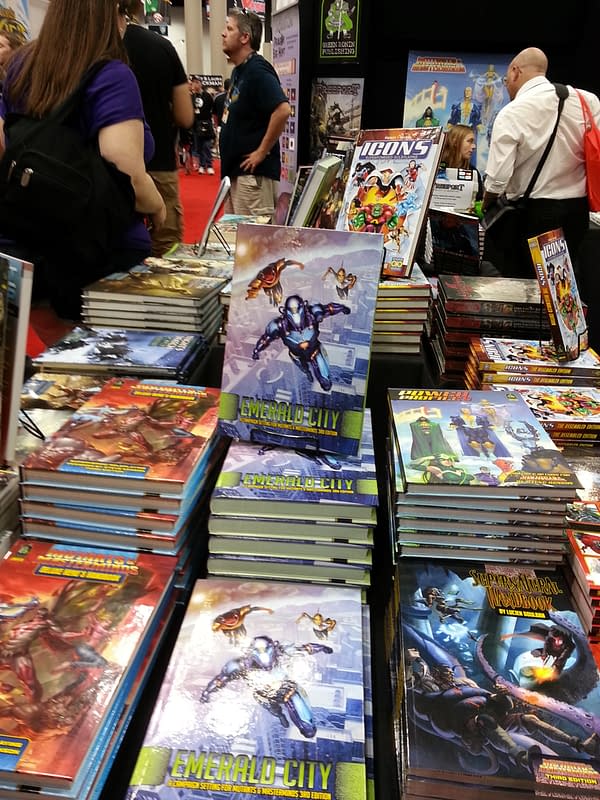 I had a chance to speak briefly with Green Ronin publisher Chris Pramas about some upcoming plans for the tabletop Dragon Age roleplaying game that they produce under license from Bioware, and the generic version of the rules that they have planned as well. This conversation will be the subject of future pieces here on Bleeding Cool as well.
I also talked with Jon Hodgson and T.S. Luikart at the Cubicle 7 booth about the Doctor Who: Adventures In Time And Space roleplaying game, and some of their upcoming plans for the game with the new season of Doctor Who coming up soon. They had some great looking books (I got copies of the latest printing of the corebook and a supplement dealing with the Fourth Doctor) for the line. Their One Ring roleplaying game, and supplements, was being snatched up by fans of J.R.R. Tolkien while we talked.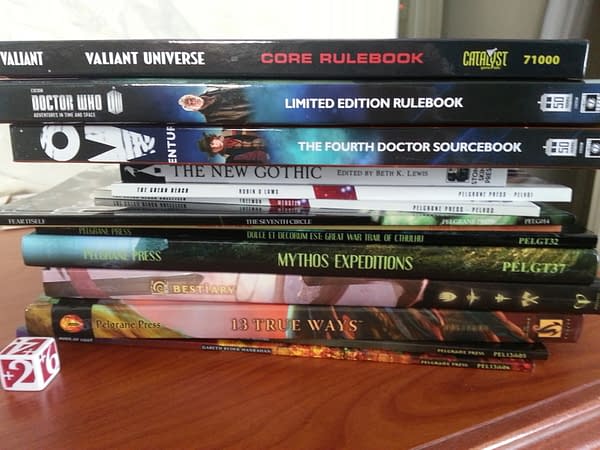 I also picked up some supplements for 13th Age game from the Pelgrane Press booth (one of my "must have games" from the convention). The 13th Age Bestiary and 13 True Ways both have some cool stuff to them. 13 True Ways in particular looks like it expands the baseline 13th Age into some very interesting directions. I look forward to digging into this book when I'm less tired.
I also talked with Randall Bills of Catalyst Game Labs about some of their upcoming plans for the Valiant Universe roleplaying game. There is some exciting stuff to talk about there, when the time comes to be able to talk about that. Friday I may also be able to talk about another comic adaptation that is coming to a popular roleplaying system. If my appointments for Friday go well, we will see. It will also be my first full day at the convention. I am looking forward to seeing what happens, and who I get to run into. Maybe I will actually look at the maps and try to figure out where people are hiding their booths. Until then, enjoy the pictures from Thursday:
Christopher Helton is a blogger, podcaster and tabletop RPG publisher who talks about games and other forms of geekery at the long-running Dorkland! blog. He is also the co-publisher at the ENnie Award winning BattlefieldPress, Inc. You can find him on Twitter at@dorkland and on G+ at https://plus.google.com/+ChristopherHelton/ where he will talk your ear off about gaming and comics.
Christopher has a crowdfunding page to help raise money to defray the costs for going to the Gen Con gaming convention and cover it for his Dorkland! blog and Bleeding Cool. Please clickhere to go to the page and help out.