Bad news for the superstars of WWE RAW and Smackdown. The company has announced that RAW will broadcast live on Christmas and New Years this year, while Smackdown will broadcast live the day after each. The news was announced on WWE's website in a festive press release, reading:
Prepare to celebrate the holidays with WWE this year as Raw broadcasts LIVE on Christmas night, Dec. 25, and New Year's Day, Jan. 1.

This marks the first time that WWE will present Monday night's hottest show live on the Christmas and New Year's holidays. These unprecedented broadcasts aim to best serve you, the WWE Universe, during the holiday season. Additionally, SmackDown will be broadcast live on Dec. 26 and Jan. 2.

Deck the halls and ring in the New Year with Monday Night Raw, live on Dec. 25 and Jan. 1 on USA Network.
Since WWE's travel policies reportedly require wrestlers to arrive a day early before live shows, that means the Smackdown superstars will also need to be in the city they are performing in on the holidays, rather than home with their families.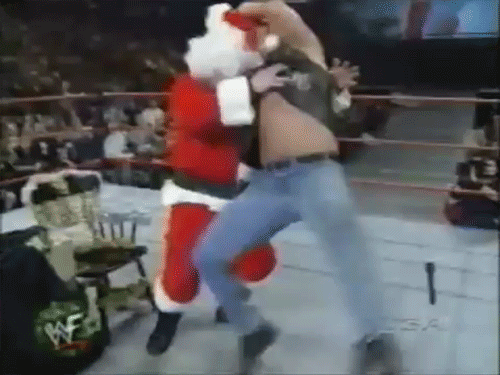 The idea to broadcast live may be a demand from the USA Network as opposed to a decision by WWE itself, as ratings for WWE's shows are not what they once were. It's also possible that Vince was struck with the idea after looking down from his penthouse office at his wrestlers singing and thinking, "Oh, the noise! Oh, the Noise! Noise! Noise! Noise! That's one thing he hated! The NOISE! NOISE! NOISE! NOISE! DAMMIT!"
Enjoyed this article? Share it!