It's no secret that Japan's gaming habits are quite different to the West's. Where as North America and Europe largely prefer gaming at home on consoles, Japan loves the mobile and handheld market. The country prefers to game on the move and that has sustained sales of the Nintendo 3DS for years.
It turns out that Japan's gaming habits might have an even bigger divide than we thought. While the console market is as big as it has ever been in the West, it's at its lowest in Japan since 1990. In numbers published by Famitsu, and translated by NeoGAF, it show that Japan is on a worrying downslope. For better understanding, check out this graph: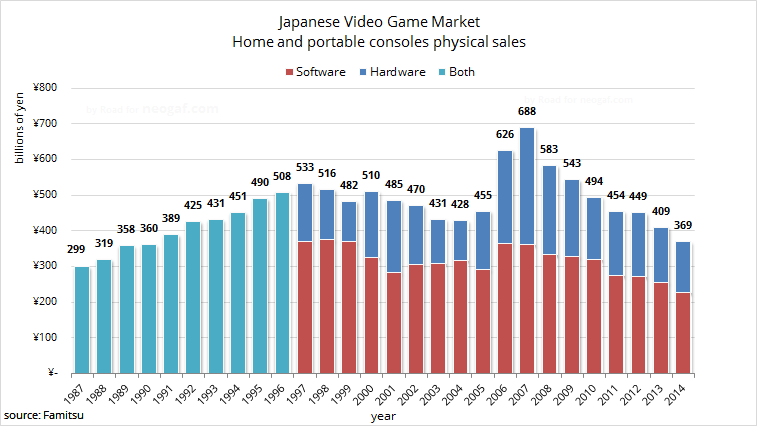 Both major handheld consoles, the Nintendo 3DS and PlayStation Vita, were the highest sellers, with home consoles left floundering.
Nintendo sold 3,153,045 Nintendo 3DS's
The PlayStation Vita sold 1,147,936 consoles
PlayStation 4 sold 925,570 consoles
Wii U sold 604,856 consoles
PlayStation 3 sold 450,034 consoles
The poor Xbox One had close to no presence at 45, 958 units sold.
Why is this important to the West? Well, it will no doubt have an effect on games that are made in Japan. PlayStation and Square Enix are no doubt going to look at ways to counteract this, but they may have already lost to the burgeoning mobile market. The Japanese development scene is in a strange place at the moment and it could be on the verge of dying, at least where big budget, AAA games are concerned.
That would be a huge issue. Japan has been incredibly important to the entire gaming culture. Obviously, it would continue to exist in mobile markets as Japan has a huge technology and gaming culture, but I'd hate to see Square Enix not back Japanese franchises like Final Fantasy on the most powerful machines in the future.
Enjoyed this article? Share it!