Life of the Party Review: Saved by a Heartfelt Melissa McCarthy
For full disclosure, I have never liked Melissa McCarthy's performances. In nearly every instance writers and directors have her doing lower-tier comedy and using her as the klutz with two left feet or as less than the very intelligent woman that she is. Even before the screening of Life of the Party had begin I was musing about how I had yet to see a McCarthy vehicle that I actually enjoyed. Well, when the lights came back up 105 minutes later, I was singing a very different tune.
[rwp-review-recap id="0"]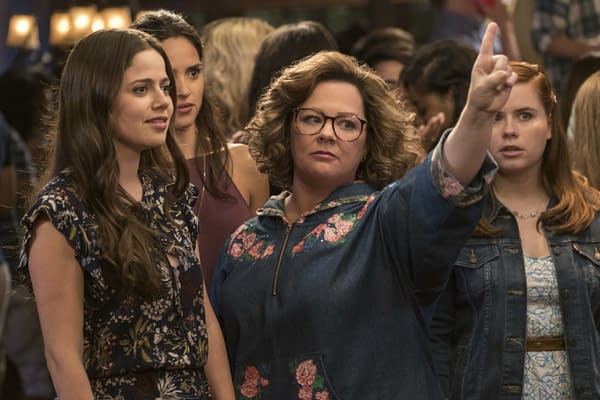 Life of the Party isn't a particularly ground-breaking premise — McCarthy plays Deanna Miles, a mother and wife whose husband is leaving her for another woman. Deanna has to figure out how to pick herself up and soldier onward. Under the Tuscan Sun is another solid take on the subject. This time around, rather than running off to the hills of Tuscany, Deanna decides to return to collect and finish off her final year's worth of classes so that she can finally finish something. Granted, what she's finishing is an archaeology degree, so how much that will particularly help her is unclear, but it's more about her proving to herself that she can finish it.
McCarthy co-wrote the script with her husband Ben Falcone (Tammy, Life of the Party), who also directed. What elevates the film above some of her previous catalog is that she isn't the butt of the film's jokes. She's almost a fish out of water (returning to a very different scholastic environment from what it was when she was last taking classes), but she comes off as very adaptable and capable (she just needs to get her bearings and get caught up), rather than a late-era Maxwell Smart.
Her need to make others happy, to find her own identity, and to establish her own place in the world comes across as a deeply personal expression for her. She has her moments of slapstick and pratfalls, but they're kept to a minimum and it leaves her more time to inhabit the character as if Deanna was a real person rather than just a caricature. She is a very sexual being, and the film doesn't play it up as tawdry (alright, other than one particular scene involving her vaGoogle, which runs a few jokes longer than it needed to).
If anything comes across as uncomfortable is the level to which her ex-husband, Dan (played by Matt Walsh), derides her entirely unnecessarily. Nothing in the story implies that Deanna was a terrible person, but Dan treats her with such thoughtless disdain that it encroaches onto the abusive. The kind of behavior where he refers to his new fiancée/girlfriend as his upgrade from Deanna isn't the kind that just appears overnight.
As his antics become even more callous, the idea that their daughter, Maddie (played by Molly Gordon), would associate with him stretches credulity.
The frat party scenes are fun; Maddie's mortification as mom immediately bonds with her sorority sisters is adorable. The ubiquitous requisite-bully cool-girls are at least kept to a side-thread so they're not too annoying. In the end film is not at all a bad one; what definitely elevates it is McCarthy's performance. Hopefully this will be just the start of more films where writers and directors trust in her acting skills beyond the very narrow box they've kept her penned into until now.
[rwp-review-ratings id="0"]
[rwp-review-form id="0"]