Major Star Expected To Appear On WWE Raw Tonight To Begin Program Of Jobbing To Roman Reigns At Wrestlemania According to the dirt sheet rumor mill as well as common sense, WWE legend The Undertaker is expected to appear on tonight's episode of WWE Raw to kick off a feud that will ultimately end with The Undertaker jobbing to Roman Reigns at Wrestlemania while the crowd boos mercilessly. It was originally suggested that The Undertaker might appear at last night's Fastlane PPV event, where he might have interfered in Roman's match against Braun Strowman, costing Reigns the victory and keeping Strowman looking strong. However, possibly in an attempt to keep smarks from gleaning even a small amount of pleasure from last night's event, the decision was made to keep Undertaker out of the match and let Reigns pin Strowman clean, proving once and for all who is the Big Dog and making Roman look strong for his program with The Undertaker that will prove once for all whose yard the WWE ring is.
It's Roman's yard, in case that wasn't clear.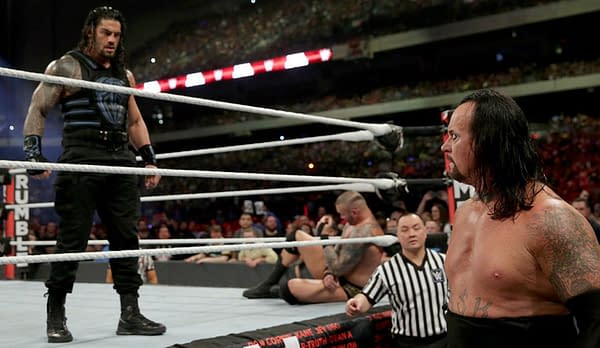 A Wrestlemania program between Roman Reigns and The Undertaker was set up during the Royal Rumble, when Reigns eliminated The Undertaker from the match by gently nudging him over the top rope. Undertaker hasn't appeared on WWE since then, mainly due to the fact that his hips currently have the structural integrity of saltine crackers, and his healing factor isn't what it used to be thanks to adamantium poisoning. It's The Undertaker's policy to get injured during his Wrestlemania matches rather than before them, so he'll probably try his best to avoid getting too physical until the rumored match takes place on April 2.