Represent: The Rise Of Characters Of Color In Sci-Fi And Fantasy
Rich Epstein writes from New York Comic Con 2017:
Filmmaker Celia Peters led a panel to discuss issues of inclusion in science-fiction, both on the screen and behind the scenes. Peters opened the panel by acknowledging the obvious lack of diversity that has plagued the industry as well as acknowledging the strides that have been made. Peters stated that her goal was to have an open conversation about these issues.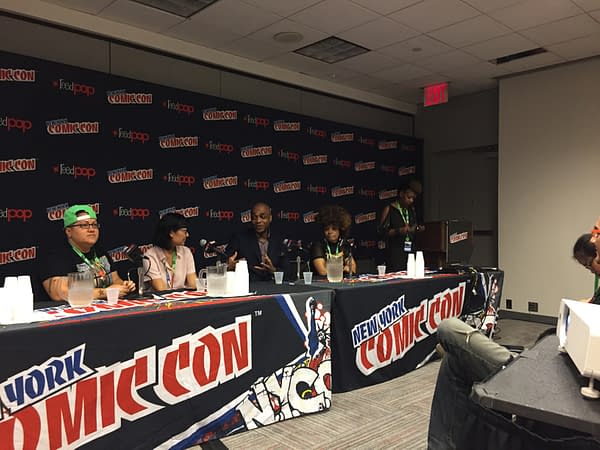 On hand for the conversation were author Gabby Rivera, currently writing Marvel's America, actor Rick Worthy, currently starring in The Magicians, director Jennifer Phang, currently directing episodes of The Expanse, and Ytasha Womack, author of Afrofuturism: a The World of Black Sci-Fi and Fantasy Culture.
Peters opened the panel by asking Worthy whether it was a particular choice he made to seek out roles that did not appear to be race-specific. Worthy, a classically trained actor, was originally offered roles on UPN comedies — roles that just didn't challenge him. Instead, Worthy started seeking out roles in projects he was interested in, starting with a role as a Klingon in a video game.
From there, he went on to a bunch of Star Trek projects before landing the role of a Cylon in Battlestar Galactica. Regarding his role in The Magicians, Worthy said that it wasn't written for an African-American actor, but rather the producers had a Donald Sutherland type in mind. Womack went in anyway for the interview, and was able to bring something none of the actors could.
Peters asked Rivera about writing America Chavez, how it came about and what it means. Rivera started by thanking Marvel for searching for an authentic voice to write the book. Rivera noted how easy it would have been to assign it to somebody that regularly works for Marvel, somebody who would most likely be a straight white man. Rivera noted how this is normal behavior, not meant to exclude when in fact it does. The fact that Marvel took the time to find a gay Latina to write the book was important and showed a commitment to doing the character right.
Phang talked about her experience as someone born in America to Vietnamese and Chinese/Malaysian parents. Phang lived in Malaysia for the first eight years of her life. As such, she sometimes felt as an outsider; like she didn't belong. She looked at the character of Grace on Battlestar as one that meant a lot to her. Grace was an Asian-American woman with agency. Phang's first feature film, Advantageous, dealt with a woman choosing a new artificial body to live in — and in order to be among the elites, she chooses a Caucasian body.
Next, Womack described Afrofuturism, a way of looking at the world referencing black culture and history, mysticism, and technology. Afrofuturism often entails a different way of looking at time, where past, future, and present all overlap, which comes from several African cultures. Womack wrote the book after hearing about the concept from a professor friend, and thinking about how she knew people who were into these things but didn't know what to do about it.
The panel then started talking about how sci-fi was important to them. The big theme was Star Trek. Worthy opened up the conversation, talking about how he watched the show on syndication while growing up. It was revolutionary to see such an inclusive cast and stories. Peters pointed out how Nichelle Nicholls almost quit the show, but Martin Luther King Jr. saw the potential and importance of the character and convinced her to stay.
Rivera spoke about life in the inner cities, how if you aren't black or Latino in the right way, you can be called "white" and ostracized. Sci-fi offers an escape from all that.
The panel was asked about what they want to see in sci-fi moving forward. Rivera wants to see more badass gay and bisexual Latina characters — think black or brown Tank Girl. Worthy really wants to see Octavia Butler's works made into a movie or show; unfortunately, the rights holder said no, unless Worthy can bring in Will Smith. For her part, Womack wants more people to feel empowered to create. Too many people stand on the sidelines, afraid it won't be good enough or won't be seen. Finally, an audience member asked about negative social media experiences, which made Rivera laugh. She related how she gets so much vitriol from people, often straight white guys who have a whole system in their favor. She encourages them to let it go. She said some people even make videos about how much they hate her — none of her ex-girlfriends even went that far, she joked.
It isn't always easy to ignore the messages, however, and Rivera often has to block people on social media — which can lead to her missing supportive and uplifting replies from girls that read her books, or fathers that share it with their sons, trying to raise them right and to be considerate.