Rick Moranis is returning to acting for The Goldbergs, something we weren't expecting to happen. Ever.  The Canadian left showbiz back in 1997 to focus on his family, an admirable endeavor to be sure.
Moranis was a mainstay of comedy for much of the '80s and early '90s, his dual roles in Ghostbusters touchstones of the genre, as well as the classic Mel Brooks Star Wars parody comedy Spaceballs.  Therein lies why he's coming out of retirement.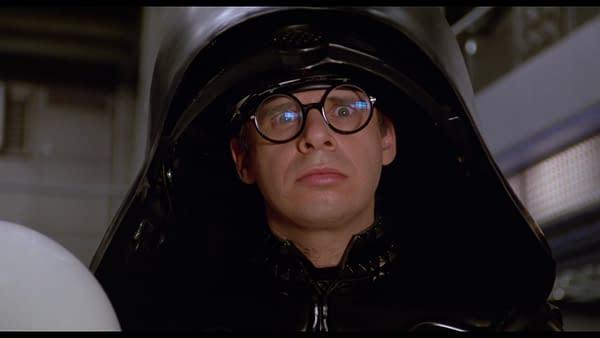 On ABC's The Goldbergs, pop-culture and '80s references are a way of life, one that is charmingly and hilariously presented week after week. Turns out, they also managed to tempt Rick to dust off a familiar character.
According to USA TODAY, Moranis will be voicing a character in one of young film enthusiast Adam Goldberg's dreams. Adam (Sean Giambrone) "encounters Dark Helmet storming his bedroom to battle with the Schwartz," a play on Star Wars' The Force, according to a description. Adam "promises to get a sequel to Spaceballs produced before waking up."
This is pretty exciting for both fans of the show and of Moranis, who many were hoping would appear in the recent Ghostbusters reboot. Maybe this means he'll be more willing to actively discuss returning to that franchise, or the long-rumored Spaceballs sequel.
The Goldbergs air on Wednesdays on ABC.
Enjoyed this article? Share it!