Posted in: Exclusive, Interview, Lionsgate, Movies | Tagged: Carlos Miranda, exclusive, interview, Jaina Lee Ortiz, lionsgate, Righteous Thieves, Station 19
---
Righteous Thieves: Carlos Miranda on Heist Film & Station 19 Timing
Carlos Miranda talks to Bleeding Cool about his latest Lionsgate heist thriller Righteous Thieves, Jaina Lee Ortiz, Station 19 & more.
---
Carlos Miranda has become quite an up-and-coming talent across film and television since making his memorable turns in 2011's Warrior and 2013's The Bling Ring. He's largely been active on the episodic dramatic TV scene with roles on the 2012 Dallas legacy reboot, How to Get Away with Murder, Law & Order Special Victims Unit, Ana, Vida, Bosch, Grey's Anatomy, currently stars in ABC's Station 19. Miranda spoke to Bleeding Cool about his latest heist film Righteous Thieves for Lionsgate, which focuses on Annabel (Lisa Vidal), a leader of a secret organization engaged in the recovery of priceless artwork, who assembles a ragtag crew of art thieves to recover a Monet, Picasso, Degas, and Van Gogh stolen by Nazis during WWII and now in the possession of neo-Nazi billionaire oligarch Otto Huizen (Brian Cousins). As the planned heist approaches, loyalties are tested when the crew learns the real reason behind Annabel's search for the long-lost paintings. The actor about how a mutual contact allowed him to get a jump start with co-star Jaina Lee Ortiz, who he would also work with on Station 19, working with director Anthony Nardolillo (Chicago Med), his favorite heist films, and stunts.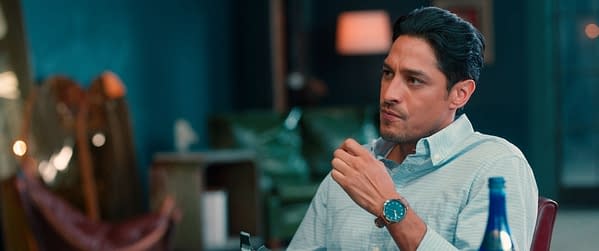 How 'Righteous Thieves' Became a Dream Project
Bleeding Cool: How did you get involved?
Miranda: I got involved with 'Righteous Thieves through my relationship with Jolene [Rodriguez], who is a producer on the movie. We became acquainted some time ago while she was working at Sony. I happened to be at a film festival one year, and she was talking to Jaina Lee Ortiz, who's also in the film. I had no idea about this movie. I remember being at this film festival, and I was about to start working on a show that I'm on now called 'Station 19' that Jaina is a star of. It was one of those like, "How are you doing? I'm going to be on your show," and "Jolene, how are you doing? I haven't seen you in so long." Jolene was trying to get Jaina to be in the film at that time. I'm just like, "Oh, my God! This is like 'Entourage.'" She's trying to get her to sign this deal. That's how I learned of the project, and then sometime after that, my manager called me and let me know that I was offered a part in it.
Are there any heist films you grew up watching?
I love heist movies. Are you kidding me? These are freaking the best. 'Heat' (1995) is probably one of the best heist films. Some of the more recent ones: 'The Town' (2010)…Fuck, Bro!. I love those films and 'Ocean's 11' (2001). These are always great. I'm not going to lie. I did a little homage to Brad Pitt while I was working on this. I did a lot of bit eating parts. I was like, "You know what it is?" I said, "I'm going to kind of steal that from them."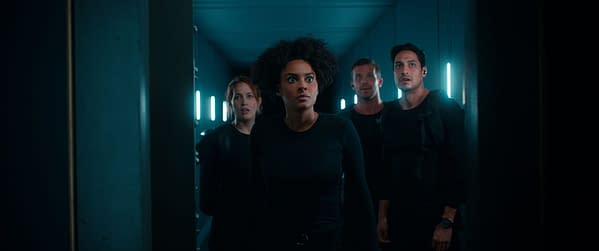 What is a project like this allow you to do that you wouldn't normally do in your other work?
For one, it was a shorter shoot, so it gave me the liberty to finish quickly and move on to other things. The experience is different from an independent project. You get a little spoiled on the network shows. There was a guerilla filmmaking-esque to it. It makes it all the more exciting because you feel like, "Oh, man! We were making a movie!" It's not a machine. It's like everybody behind here is trying to make a good movie, which is a great experience compared to other jobs.
As an indie film, is there a little more pressure regarding getting certain scenes right, like stunts?
I didn't do a lot of stunts. I probably had one or two things, but Jaina did a lot of the action. She's a little spider monkey and great. There's a lot of practice. We showed up early. We tried to choreograph and get this dance right before we even filmed it, practicing it more while we were out. Even when we get to set and we're about to shoot it, we're still running through it and making sure we get everything right. It's the time frame. Jolene was under pressure as well as her first independent project of her own. We're all trying to get everything right. You can't help, but we shot in downtown L.A. on location. The environment wasn't always working for us. Skid row's down the street; people are doing what they want to do. So it made it challenging at times.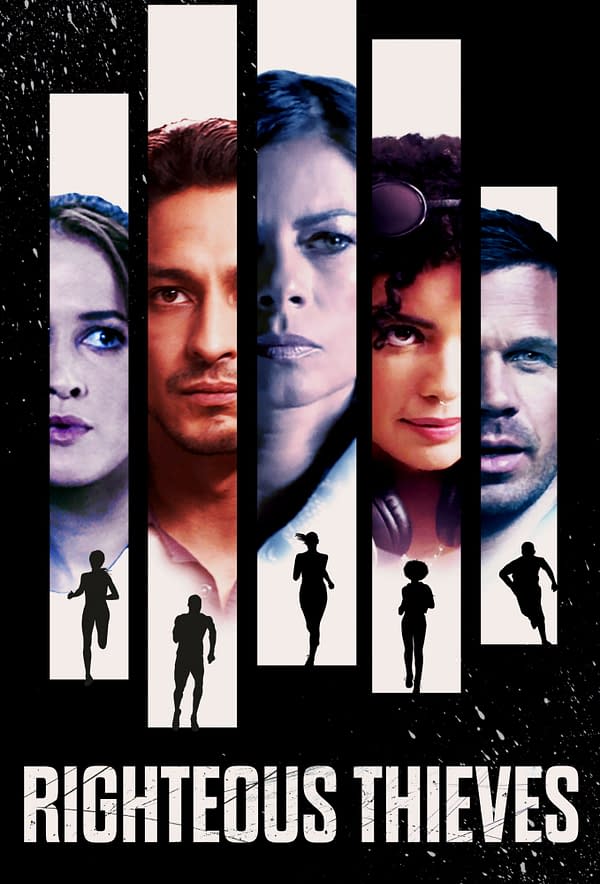 How did it feel to get the head start on set before filming 'Station 19?'
I was grateful to establish a friendship and rapport with [Jaina] before going on and working on the next project. The timing of everything was around the height of the pandemic during the lockdown. COVID was still a major problem, but the work was starting to pick up gradually. It helped me, and I felt rusty getting back into the game and getting back to work. It was nice having a job lined up and being able to do this. By the time I got into 'Station 19,' I was like, "Okay, I've been running already for a month, and I got me. I got my wind up." It was a good jump start.
Written by Michael Corcoran, Righteous Thieves also stars Cam Gigandet, Benjamin Schnau, Sasha Merci, and Danube Hermosillo. The film is available in select theaters, on digital, and on demand.
---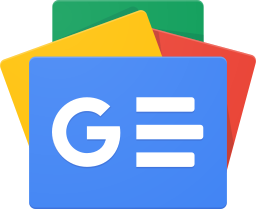 Stay up-to-date and support the site by following Bleeding Cool on Google News today!