Sam Raimi Tinkers New Ideas for "Evil Dead" Film Franchise
Sam Raimi, the mastermind director behind The Evil Dead, is looking for innovative ideas to continue the franchise on film. Despite the cancellation of Ash vs. Evil Dead (which Raimi served as producer) on Starz 14 months ago and the subsequent announcement of star Bruce Campbell retiring from the role at least in live-action form, Raimi's begun work on the series' next film.
While promoting Crawl, a horror film featuring a killer alligator, Raimi, who serves as producer, talked to Bloody-Disgusting about what the future holds for the Evil Dead franchise.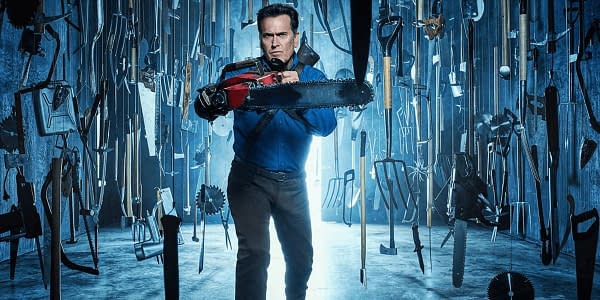 "I'd love to make another one. I don't think TV is in its future but we're talking about – Bruce [Campbell], Rob [Tapert] and myself – one or two different ways to go for the next movie. We'd like to make another Evil Dead feature and in fact we're working on some ideas right now."
There are a number of directions the new film can take. Ash vs. Evil Dead ended where Ash (Campbell) awakes from his slumber to find himself in the future facing the ongoing deadite threat in a Mad Max-type of dystopia and the film can pick up where the TV series left off. Raimi said he has an idea if Campbell reconsiders his retirement, an idea if Fede Álvarez, who directed the remake with star Jane Levy as Mia, returns and a contingency should both decide not to come back. "I would be thrilled if Bruce Campbell changed his mind about retirement, would come back for the original Evil Dead line, but if not, I'm very happy to work with, if Fede [Álvarez] would come back and make the sequel… but he's such a big shot now. He's so successful, an artist in demand, that I don't think he'd want to do that."
Hopes for a crossover might be dashed when Raimi distinguished the universe he established with Campbell compared to the one Álvarez established with Levy.
"I think [the remake is] a part of the Evil Dead universe but not part of the Bruce Campbell storyline." Raimi teased what might be involved with the third option but coyly refused to divulge any further details. He did offer a timeline for the next film.
"I think you may see some action on the Evil Dead movie in the next six months."
What do you think will happen in the next film installment of Evil Dead? Mad Ash Beyond Thunderdome? Will we ever see Ash and Mia team up to spill deadite blood? What about the fates of the TV characters in Pablo (Ray Santiago), Kelly (Dana DeLorenzo), and Ash's daughter, Brandy (Arielle Carver-O'Neill)?
Until then, we'll have an evil gator to tie us over. Crawl lurks to theaters July 12th. Check out the trailer.