This article contains spoilers for last nights DC's Legends of Tomorrow – White Knights.
.
.
.
.
.
.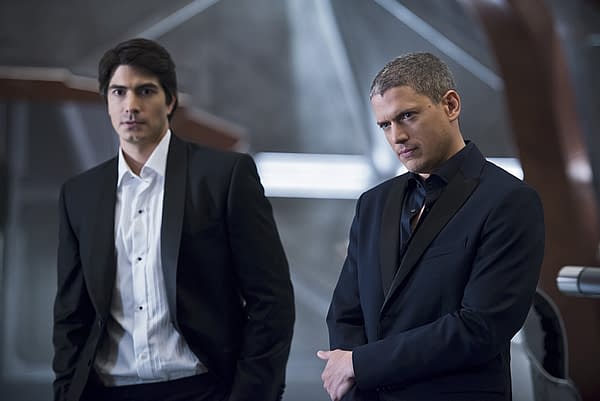 The title of the latest DC's Legends of Tomorrow was White Knights, which may not trigger the same image for me… but I think it did for the writers on the series as the team goes into the Soviet Union after Vandal Savage. Throw in the references to the ballet and it seems obvious to me that they were tipping their hat to the 1985 film White Nights with Mikhail Baryshnikov and Gregory Hines. But that Easter egg aside, this episode continues the team building by pairing off and the fact that they seem to do more harm than good most of the time. Here are the important moments and not necessarily in order.
1 – The show starts with a heist mission that is going pretty well until a minor mistake and Kendra Saunders loses her cool and goes Winged Avenger on a bunch of soldiers. She doesn't know how to control the goddess inside of her which leads Rip Hunter pairing her up with Sara Lance to work things out. The problem of course is Sara has issues as well. This all leads to a bonding moment between the two and a new connection for Kendra who has already lost Carter Hall. It also gave them something to do since the main story didn't need them.
2 – The producers seem to really like putting Ray Palmer and Leonard Snart together. And once again Ray's over enthusiasm and confidence almost ruins the plan to get close to Valentina Vostok and it's the cool Captain Cold that gets to turn on the charm. The relationship between Ray and Leonard is rocky, the don't like each other and I'm sure Leonard will give him hell for giving into Vostok's demands when she had a gun on Cold… but Snart also showed incredible loyalty, not wanting to leave Mick Rory behind. Will we see that kind of relationship build between Palmer and Snart?
3 – The Waverunner is attacked by Chronos and after crash landing Rip Hunter and Heat Wave head out to deal with the time-travelling bounty hunter. Except it's not Chronos but one of the Time Masters, Zaman Druce, that Rip respects asking him to end his crusade and come back. Rip buys the pitch and is thinking about it, but it's Rory who calls it a trap. We've spent a few episodes establishing that Rory is thick and basically just the muscle so it's really nice to see him get a moment. And of course he's right, Druce plans on killing everyone and has Chronos there to do it.
4 – There is a rift between Martin Stein and Jefferson Jackson, which is understandable since they've had very little time to work together and Stein did kidnap Jax. Without a good working relationship then Firestorm makes mistakes. The first was the cause of the problem during the heist while the second one got Jax hurt. Stein pushes Jax, being downright mean. But he admits to Ray Palmer he knows it, that he's doing it because he's scared. The loss of Ronnie Raymond was a lot for Stein and he fears losing another partner.
5 – Valentina Vostok is an interesting character. Ray assumed she was a damsel in distress and it got them caught in Russia. When she pulls a gun on Leonard it moved her from damsel to villain pretty quickly. And Vostok isn't just a random name, the character exists in the DC comic universe as Negative Woman and part of the Doom Patrol. She was also the White Queen in Checkmate for a while. Could her work on trying to duplicate Firestorm make her into Negative Woman? Or as an added bonus, the soldier Rory promises to come find is named Mikhail Arkadin, who in the comics is a Russian superhero named Pozhar and ends up merged with Firestorm for a while. Maybe Vandal will end up building a team of his own.
6 – Once the figure out they need to get into a Russian laboratory, Stein becomes the obvious choice but they send him in alone. He learns that Vostok is trying to copy Firestorm and knows the key is the reactor core. He goes in to the shield area to steal it, being one of the only people who could survive such a thing. Nothing goes very well, but he is able to remove the core and Snart escapes with it. But Vostok and Arkadin capture Stein, Palmer and Rory. Vostok doesn't care they lost the reactor as she now has half of Firestorm which she thinks is all she needs.
The introduction of Vostok and Arkadin open up a lot of possibilities for the writers. The idea of team of superheroes fighting one immortal and his army over and over again would get boring. But the potential to bring in other heroes/villains makes the series more interesting. But this isn't the comics, so the writers are free to do their own variations or just borrow the name. Though form the looks of the trailer below… someone is going to get some power next week.
[youtube]https://youtu.be/7J2DzEPLa0U[/youtube]
Enjoyed this article? Share it!