Our Next Doctor Who Rewatch Is Truly Heaven Sent In So Many Ways
On Saturday, Doctor Who Magazine writer Emily Cook, the mastermind behind the rewatch events, tweeted that the next episode would be "Heaven Sent." Clearly, Cook doesn't like wasting any time. Writer Steven Moffat and director Rachel Talalay will live-tweet along with actor Jami Reid-Quarell, who played The Veil. The rewatch takes place on Tuesday, April 14, at 8 p.m. British Standard Time, putting it at 3 p.m. US East Coast Time. One of the reasons why that date is so important? It just so happens to also be Peter Capaldi's birthday. James Barnett even cut together a trailer for the event, and here's a look at the key art for the event: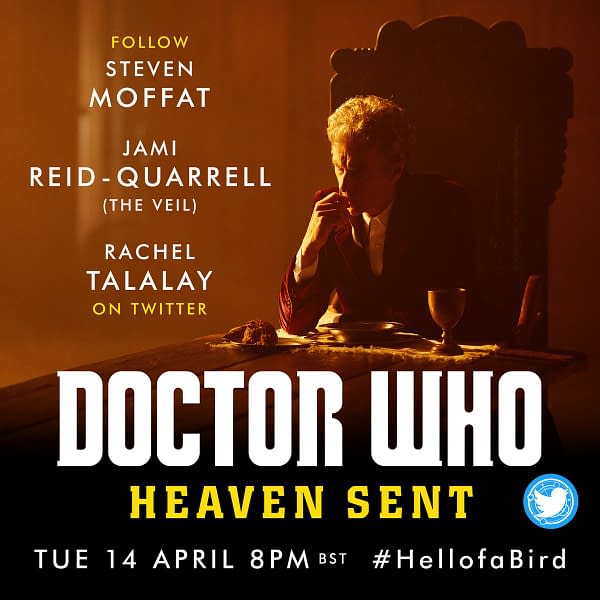 Heaven Sent Was An Experimental Episode of Doctor Who
Moffat liked to swing for the fences whenever he got the chance and a good story reason. "Heaven Sent" turned the show's most basic premise – the Doctor being chased by a monster – into something bigger and weirder. It's the only episode in the show's history where only the Doctor appeared. Reid-Quarell played the Veil, a role with no face and no dialogue, stalking the Doctor like something from a classic British ghost story. The episode became an actor showcase for Capaldi, who had no one to act with but himself. The Doctor had to talk to himself, thinking out loud, fighting panic and still in shock and grief from Clara's death. He does what he's best at: think his way out of the trap he's been put in. Someone wants something from him and is willing to kill him again and again to get it.
Talalay is possibly the only American to ever direct episodes of the show. Her skill in pacing for suspense, action and choreographing big setpieces gave the show its epic feel. She faced a new challenge with "Heaven Sent", an intimate story that was also hugely epic, and met it head-on. For Moffat, this also meant writing some of the biggest and most mind-blowing Science Fiction ideas the series ever dared to tackle. He dives deep into themes of time travel, repetition, death, and rebirth. The story had a strong layer of myth and metaphysics as a man journeyed through hell to reach its exit. All that made this episode one of the most talked-about in the show's history, worthy of a global fan rewatch with its writer and director.