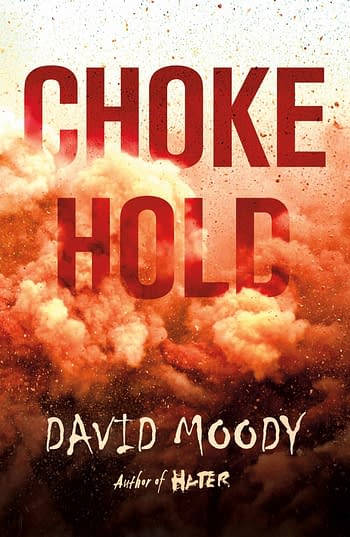 This episode we chat with David Moody, whose new book Chokehold comes from St. Martin's Griffin books. The book ends a couple of book cycles for Moody, it's the final book in the Hater series that began in 2006, and the Final War series which began in 2017 with the acclaimed One of Us Will be Dead by Morning.
The world of Chokehold is a post-apocalyptic UK where a nuclear-ravaged countryside swarms with two armies at desperate war: the Haters, who underwent a change that renders them intent on killing everyone who didn't (the Unchanged.) The Haters are similar to zombies in that way, but they retain their intelligence and cunning, and have organized in the post-nuclear UK to continue their war on their former loved ones. Moody says he loves exploring what ordinary people would go through if their world stopped working—in the book, both Haters and Unchanged find new rules and organizations amid the ruins of recognizable highways and buildings. The book is relentlessly aggressive and dark, and always violent.
Moody discusses his process and the changes that have occurred in publishing since he began. Hater was an independently-published success story, garnering praise and eventually the attention of Mark Johnson and Guillermo Del Toro, who acquired the film rights at the time. Since then, Moody has moved his books to more traditional publishers, with the current series coming from St. Martin's, an imprint of Macmillan. We chat about the challenges and pitfalls of both models, and about the differing advice that writers get about the benefits of independent versus traditional publishing.
Because books have gotten so easy to publish, the independent writer faces multiple challenges: getting the book noticed, overcoming a prejudice against independent publishing that doesn't exist for, say, independently-produced plays, and just taking on the tasks that traditional publishing usually handles for the writer, such as editing and art directing. Moody continues to do both traditional and independent publishing, just as he continues to explore other kinds of horror, including straight zombie horror under his Infected press.
Listen here:
Listen on YouTube:
Castle Talk Podcast Links:
Join us over on Facebook to chime in.
The show is hosted here. Get our RSS Feed. Subscribe at iTunes. Listen on Stitcher. Or watch on YouTube.
Twitter: jasondhenderson.
The Team: Hosted by Jason Henderson, editor of the Castle of Horror Anthology and Young Captain Nemo, and creator of the HarperTeen novel series Alex Van Helsing.
Enjoyed this article? Share it!