Family Guy's 300th Episode Preview: Brian vs. Stewie – It's On!
With Fox's animated hit series Family Guy about to drop its 300th episode, I'm not sure what's more impressive: that the Seth MacFarlane series bested a ton of early naysayers to achieve such a milestone; or that Adult Swim still rotates the same 26 episodes on a regular basis. Seriously, I've had enough of the "Meg joins the suicide cult" episode for about eight lifetimes. But I digress…
But while Fox and friends may be popping the champagne corks, it appears Sunday night's "Dogs Bites Bear" won't be anything to celebrate for Brian and Stewie. The relationship between the constant companions and lifetime partners may have finally passed a point of no return: Stewie learns that Brian destroyed Rupert (yup, that Rupert), Stewie's stuffed amore'. As you can see from the preview clip below, it does not go well:
But before you start thinking that the episode's going to be all doom-n-gloom, executive producer Rich Appel assures fans that they will be getting their regular episode allowance of Vin Diesel homages:
"Cherry Chevapravatdumrong wrote the episode, and among many skill sets she brings to her job as a writer is a fondness bordering on obsession with The Fast and Furious series. One of the sustained bits in the show revolves around Stewie's adoration of that series, and he tells Brian to be careful talking about Paul Walker because he hasn't yet broken the news of his death to Rupert."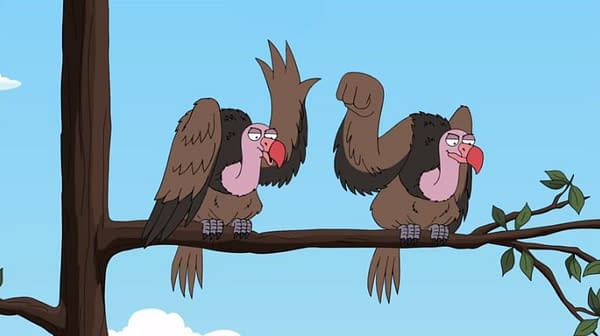 Sunday's 300th episode is only the first milestone for Family Guy this season. Fox will air the first-ever extended length episode of the series on March 11, with sponsored limited commercial interruptions. In "Send in Stewie, Please," Stewie gets sent to the office of his school's child psychologist, Dr. Cecil Pritchfield (Ian McKellen), after pushing one of his classmates. During the session, Stewie experiences a series of personal and emotional revelations about himself.
Family Guy's 300th episode, "Dogs Bites Bear," airs Sunday, January 14, 9:00 pm ET/PT on Fox.