Here and Now: HBO Sets February Premiere Date for Alan Ball Series HBO has finally set a premiere date for Alan Ball's (True Blood, Six Feet Under) upcoming new series Here and Now. Set to premiere February 11, 2018, and airing on Sundays at 9:00 pm ET, the family-drama-with-a-twist stars Holly Hunter (The Piano) and Tim Robbins (The Shawshank Redemption) as parents of a multi-racial family made up of three adopted children and one biological daughter, all grown up.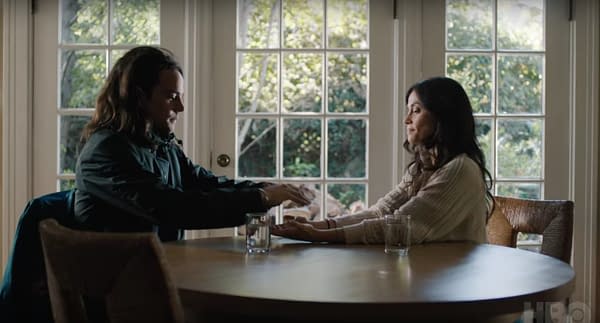 Things for every member of the family soon get complicated when things for one of them get…"complicated," as you'll see from HBO's teaser for the series and an updated overview:
https://youtu.be/sdvSyhyBD6Q
A multi-racial family made up of husband, wife, three adopted children from Somalia, Vietnam and Colombia and one biological child, find their bonds tested when one of the children begins seeing things which the rest cannot.

Here and Now is a provocative and darkly comic meditation on the disparate forces polarizing present-day American culture, as experienced by the members of a progressive multi-ethnic family – a philosophy professor and his wife, their adopted children from Vietnam, Liberia and Colombia, and their sole biological child – and a contemporary Muslim family, headed by a psychiatrist who is treating one of their children.
Joining Hunter's Audrey Black, a lawyer; and Robbins' Greg Bishop, Audrey's husband and philosophy professor, are: Jerrika Hinton as Ashley Bishop-Black, adopted by the Bishops from Somalia, now creator and owner of a retail fashion website; Raymond Lee as Duc, adopted from Vietnam when he was five, now a successful life coach; Daniel Zovatto as Ramon, adopted from an orphanage in Colombia at 18 months, now a college senior studying video game design; Sosie Bacon as Kristen, a junior in high school and the only biological child of her parents; Joe Williamson as Malcolm Smith, Ashley's husband and Duc's best friend, an assistant personal trainer for the Portland women's soccer team; Andy Bean as Henry, a free spirit who falls in love with Ramon; and Marwan Salama as Navid.