Jimmy Kimmel Seeks "Professional" Help in ABC Oscars Promo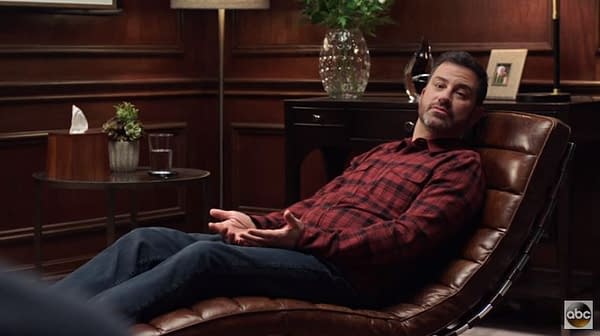 So you're hosting the 89th Academy Awards – which also just so happens to be your first time ever hosting the Oscars – and everything's going great. Until it's not. And when it's not, it's really not. We're talking historic "announcing wrong film for Best Picture" not. Something like that might be a little tough to get over, even if you're returning Oscar host Jimmy Kimmel; who, as we can see from this new promo released by ABC shortly after this morning's nominations announcement, seems to be having some issues with letting go of the past.
Though I think his "therapist" might be able to offer him some perspective:
https://youtu.be/bGZ1xaJglLU
"I dream about it every night. I've tried to get passed it…I think I'm losing my mind. And the worst part is, they want me to do it again!"
To commemorate the 50th anniversary of Bonnie and Clyde, Warren Beatty and Faye Dunaway came to the stage to announce the winner of the biggest award of the night: Best Picture. In what would later be determined as a mix-up with the envelopes, La La Land was originally announced as the winner – only to have the correction made live on-air that Moonlight was actually the winner.
While the late-night talk show host understands that the controversial moment from last year needs to be addressed, he's looking for a unique perspective to approach it from:
"I've never had great luck finding out where the line is exactly, but I think for me the challenge is that a million jokes have been made about this subject [so the challenge] is finding a fresh way to come at it."
As for how he will balance awards-related humor with more topical targets, Kimmel stresses that it's about finding the right balance and knowing your audience:
"I don't intend to use the Oscars as a platform for healthcare. Not that I don't think it's something that's important, but ultimately you have to remember why you're there. It's not about you. You're there to entertain people who are there on the biggest night of their lives, and if it gets too heavy, then I think you're getting away from that."
The 90th Annual Academy Awards are set for Sunday, March 4, 2018, on ABC.