Watch The Walking Dead Finale, Fear the Walking Dead Premiere in Theaters on April 15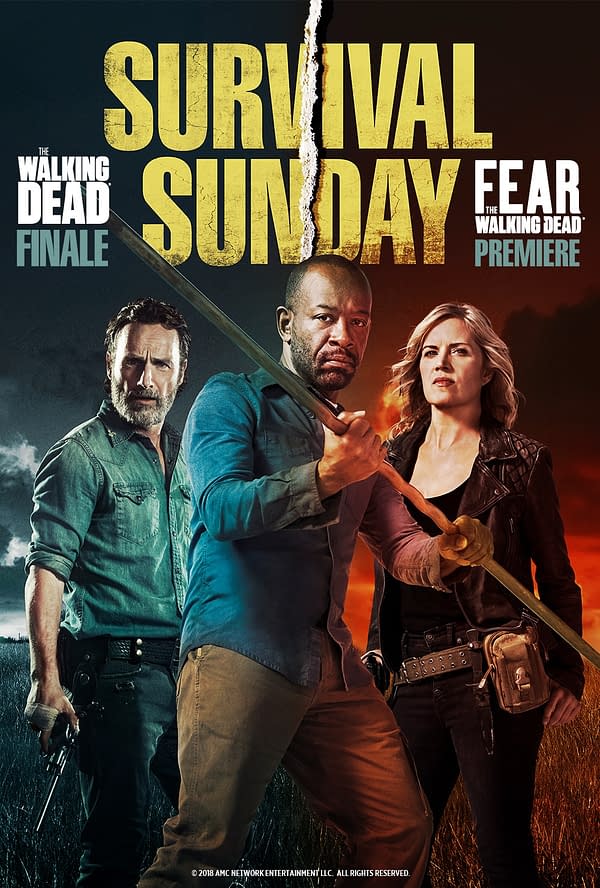 After seasons of jokes, teases, and straight denials (mostly on creator Robert Kirkman's part), the worlds of The Walking Dead and Fear the Walking Dead are finally set to collide on Sunday, April 15th, with AMC wrapping up The Walking Dead's eighth season the same night it premieres Fear the Walking Dead's eagerly anticipated season 4. That's right, folks: this means a double-dose of Morgan (Lennie James) as we finally see how all of this is going to connect.
In recognition of just how momentous the night is for Dead fans, AMC and Fathom Events have announced the one-night theater event Survival Sunday: The Walking Dead & Fear the Walking Dead for April 15th. Attendees will be able to watch both the season finale of The Walking Dead and the Fear the Walking Dead's fourth season premiere; with 30 minutes of exclusive content screening exclusively before The Walking Dead's final season episode airs.
Survival Sunday: The Walking Dead & Fear the Walking Dead will play in over 750 theaters; with tickets available for purchase here through Fathom Events. The screening event begins live at 8:30 p.m. ET / 7:30 p.m. CT / 6:30 p.m. MT / 5:30 p.m. PT.
"Sunday, April 15 marks an epic and highly-anticipated moment for these series, as worlds collide when Morgan crosses over from The Walking Dead and into the new world of Fear. We are thrilled to be working with our terrific partners at Fathom to provide fans from across the country the opportunity to experience this crossover moment in such a special way and among other members of one of television's most passionate fan communities." – Theresa Beyer, SVP of Brand Activation, AMC
Fear the Walking Dead Season 4: In season four, the world of Madison Clark (Kim Dickens) and her family is seen through the eyes of Walking Dead crossover character Morgan Jones (Lennie James). The characters meet new friends, foes and threats, battling against a legion of the dead and, at times, each other.
In consideration of Season 3's massive season-ending cliffhanger, cast returns beyond Kim Dickens (Madison) and Danay Garcia (Luciana) are being kept under wraps. Garret Dillahunt (John), Jenna Elfman (Naomi), Maggie Grace (Althea), Evan Gamble (Ennis) and Kevin Zegers will be joining James' Morgan as newcomers on the upcoming season.
The Walking Dead 8×16 'TBA': The communities join forces in the last stand against the Saviors as all-out war unfolds.
The Walking Dead stars Andrew Lincoln (Rick Grimes), Jeffrey Dean Morgan (Negan), Norman Reedus (Daryl Dixon), Lauren Cohan (Maggie Greene), Danai Gurira (Michonne), Melissa McBride (Carol Peletier), Lennie James (Morgan Jones), Seth Gilliam (Father Gabriel Stokes), Alanna Masterson (Tara Chambler), Khary Payton (King Ezekiel); with Gale Anne Hurd, Greg Nicotero, David Alpert, out-going showrunner Scott M. Gimple and franchise creator Robert Kirkman serving as executive producers.
The Walking Dead airs Sundays at 9 p.m. ET on AMC; with Fear the Walking Dead debuting its fourth season at 10 p.m. ET on April 15 before resuming a 9 p.m. time slot on Sundays beginning April 22nd.