The Weekly Static S01E19: Cool Toys, a Legendary Jesus and XFL v2.0 So it's time for Father Christmas to give us some money, 'cause we don't mess around with those silly toys. We'll beat him up if he don't hand it over. We want his cash so don't make us annoyed, but he can give all the toys to…The Weekly Static!
Because it's not really the holidays without some Kinks, right? So mamma in her 'kerchief, and I in my cap, had just settled our brains for a long winter's nap. When out on the lawn there arose such a… The Weekly Static is our righteously desperate-yet-endearing attempt at finding the lighter side of and an interesting perspective on the past week in the land of the networks, cable, streaming, smoke signals, cloud formations, and shadow puppets.
Our goal? Pretty simple:
● Offer a blunt, honest perspective on a handful of random TV news posts from the past week that also highlights your relentless team of news-thirsty Bleeding Cool writers and the quality work they do. My views are my views and not a reflection of the opinions of those who wrote the article. Translation? I own what I say 110%.
● Spotlight a news item we missed, but we're pretty damn sure you'll find it interesting.
● Feed my insatiable ego with humble offerings of praise, adulation, social media shares, pizza, Superman Funkos, a plethora of Eisner Awards, at least one write-in vote in the 2020 U.S. Presidential Election (and I wish I was joking about that one) and a chance at twenty minutes of stand-up at Carolines's on Broadway in NYC.
Is WWE Chairman Vince McMahon Planning to Reboot the XFL?
ESPN President John Skipper Resigns to Battle Substance Addiction
The Toys That Made Us Is Already My Favorite Netflix Series, and It Hasn't Aired Yet
John Legend to Play Jesus in NBC's Jesus Christ Superstar Live
Major Crimes Season 6: Ending Series Surprises Fans with Shocking Death

Just a quick heads-up… instead of going with something from the past week and television related, I'm taking a point of professional privilege and going with a news item that's a little older but really, really important.
At a time when the media is constantly calling into question the validity of audience scores online, I think it's important to remember that professional film reviewers have been and continue to be just as susceptible to manipulation as online audience scores are: except in this case, it's Disney not liking what was being written about them so they locked out the L.A. Times from access to Thor: Ragnarok.
Though they eventually backed down, Disney's message was clear:
F' with The Mouse, and you can kiss your a(cce)ss goodbye.
Manipulation at its finest, folks…
The Controversy over Disney Blacklisting The LA Times, Explained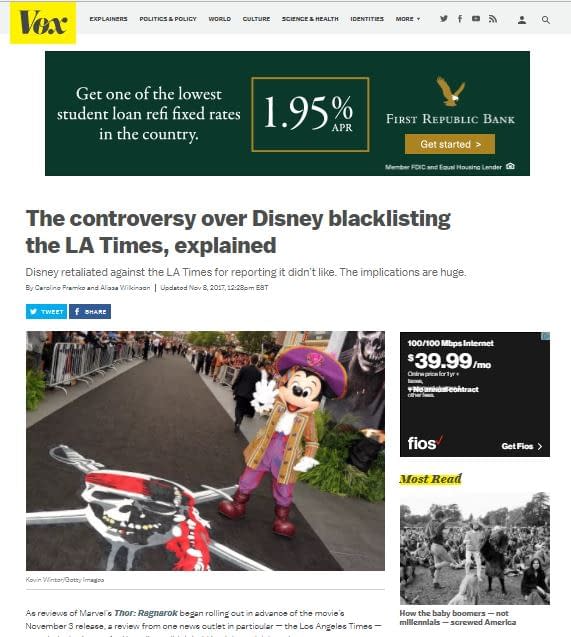 "As reviews of Marvel's Thor: Ragnarok began rolling out in advance of the movie's November 3 release, a review from one news outlet in particular — the Los Angeles Times — was glaringly absent. And its editors didn't hold back in explaining why.

In a simple "note to readers," published November 3, the newspaper explained that it could not review Thor: Ragnarok prior to the film's release — nor include it or the highly anticipated Star Wars: Episode VIII – The Last Jedi in its annual entertainment Holiday Preview. The reason, the note said, is that Disney (which owns both Marvel and Lucasfilm) had barred LA Times critics from attending advanced press screenings of both movies — and, in fact, any Disney movies — in response to "unfair coverage." (LA Times film critic Justin Chang only saw and reviewed Thor: Ragnarok once it was released to the public.)…"