YouTube Red Reopens 'Cobra Kai': Karate Kid Series With Ralph Macchio And William Zabka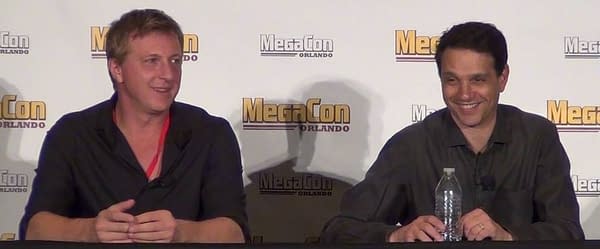 Over 30 years after Mr. Miyagi (Pat Morita) uttered the famous "wax on, wax off," line and Kreese (Martin Kove) ordered Johnny Lawrence (William Zabka) to sweep Daniel LaRusso's (Ralph Macchio) leg, YouTube Red is reuniting Macchio and Zabka for Cobra Kai, a 10-episode half-hour comedic series set to premiere on YouTube Red in 2018. Here's how YouTube Red describes the series:
"Thirty years after the events of the 1984 All Valley Karate Tournament, a down-and-out Johnny Lawrence (Zabka) seeks redemption by reopening the infamous Cobra Kai karate dojo, reigniting his rivalry with a now successful Daniel LaRusso (Macchio), who has been struggling to maintain balance in his life without the guidance of his mentor, Mr. Miyagi. The show is about two men addressing past demons and present frustrations the only way they know how: through karate."
Josh Heald (Hot Tub Time Machine), Jon Hurwitz (Harold & Kumar Go to White Castle) and Hayden Schlossberg (upcoming The Pact) are on board to write and executive produce the series, with Hurwitz and Schlossberg directing most of the series. James Lassiter (This Means War) and Caleeb Pinkett (Hawthorne) will executive produce for Overbrook Entertainment in conjunction with Sony Pictures Television Studios. For Susanne Daniels, YouTube's Global Head of Original Content, it was just a matter of embracing a different take on a still-popular franchise:
"The minute I heard about this project, I knew we had to have it. The Karate Kid became an instant classic in the 1980s, and still resonates with audiences around the world and on YouTube today. We're thrilled to partner with Sony TV, Overbrook and the talented writing team led by Josh Heald, Jon Hurwitz, and Hayden Schlossberg to add a fresh, new comedic twist on one of Hollywood's most storied rivalries." Debuting in June 1984, the original The Karate Kid movie's Rocky/underdog storyline coupled with the on-screen chemistry between Macchio and Morita would connect with both audiences and film critics alike. With a budget of only $8 million, the film would go on to gross over $90 million and earn both Academy Award and Golden Globe nominations for Morita.
The Karate Kid would spawn two sequels (The Karate Kid Part II; The Karate Kid Part III); a revamp/continuation (The Next Karate Kid); and the 2010 remake by the same name. Still, the original film has lived on in the pop culture landscape through social media and a number of "geek" collectible lines.