Danielle Trussoni's The Ancestor Takes Gothic Horror and Twists
This episode we're talking with Danielle Trussoni, the New York Times, USA Today, and internationally bestselling author of the Angelology series whose new book The Ancestor (reviewed Tuesday at the New York Times, which called it "as creepy as you might expect from an author who also writes the Book Review's horror column.") is a gothic thriller about a New York woman who receives a letter that informs her she has inherited a title and a castle in Italy. But for a book that starts out following what seems to be a gothic thriller of the old school, it winds up going places that twist and subvert the genre. One spoiler that the publisher is comfortable giving away is that the lead-inherits-a-castle story moves gradually, terrifyingly into a Michael Crichton-like scientific deep dive into crypto-zoology, the study of unknown creatures.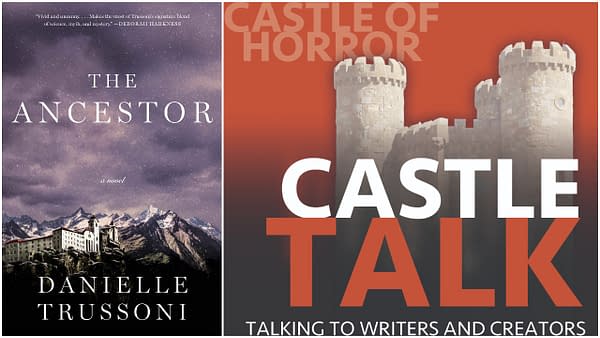 To go along with the book, Trussoni also produced Crypto-Z, a scripted, sci-fi audio thriller about special agents pursuing a mysterious creature in the Alps. We began our talk listening to the trailer for Crypto-Z and then exploring the book The Ancestor, which releases from HarperCollins on April 7 in the United States. We talked about the expectations of genre and how The Ancestor is surprising both as a thriller and as a horror novel. Trussoni, a writer who was trained in literary fiction, was already known for genre defiance, beginning with her best-selling Angelology series. The more predictable a book is, the better the bet, but the author yearns to give the audience surprises—which in turn can grow the genres. As long as she is cast in the horror role, Trussoni is content to redefine horror.
We also talked about how publishing has changed in recent years. Producing the connected Crypto-Z audio series, Trussoni says, is an example of the kinds of work novelists do today to build on their own worlds and drive readership. We also talked about the influences of the book, which are many (from Frankenstein and Jane Eyre all the way to 20th-century Gothics) as well as Trussoni's own rigorous writing process.
Listen here:
Listen on YouTube:
Check out the Crypto-Z trailer:
Jason Henderson is the host of the Castle of Horror and Castle Talk Podcasts, the editor of the Castle of Horror Anthology series, and the author of Quest for the Nautilus: Young Captain Nemo from Macmillan Children's Books.