"Journey to the Savage Planet" is Cuter Than it Should Be
505 Games and Typhoon Studios' Journey to the Savage Planet is a sci-fi exploration game with a side of survival and narrative elements. The game drops the player on the titular savage planet, with the goal to explore. Players can find pieces of information about the planet's history by uncovering and interacting with the local ruins, but that isn't the goal of the game. Really, there isn't much of a goal other than "go see stuff" which is, honestly, rather refreshing.
There are various creatures that players will come across, some friendly and others less-so. They each have a distinct alien feel even if they look rather like some more terrestrial species. The planet has various biomes which butt up against one another in slightly baffling ways, which makes for some fantastic virtual tourism fodder.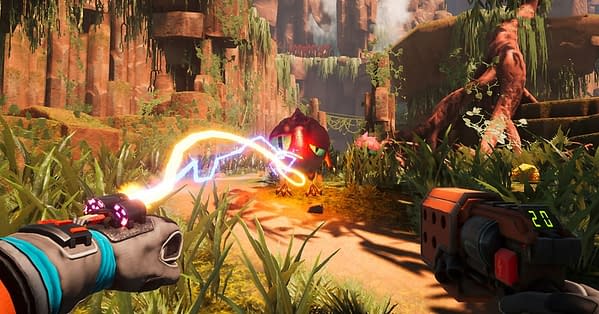 The game's narrative is told in snatches, in the clues you uncover in the ruins to the various commercial updates and AI dialogue while onboard your ship. Which means you can absolutely ignore it, if story isn't the kind of thing that excites you about games. However, the combat is also on the simpler side, with easy FPS controls and a basic weapon.
Afterall, Journey to the Savage Planet is about exploring the wilds of a new planet. So the exploration is absolutely the focus and drive of the game.