J.K. Rowling Accidentally Tweets F-Bomb Transphobic Report To Millions
It's J.K. Rowling time again, everyone. But first, rewind three years: in 2017 the then-26-year-old transactivist and transwoman Tara Wolf was was convicted of striking the 60-year old Maria Maclachlan on the back and shoulder during a protest at Speakers' Corner in 2017. The protest involved trans activists and anti-trans campaigners (dubbed TERFs or trans-exclusionary radical feminists by some). When Tara was taken to court, her social media history was brought up as part of the case against her. The website Feminist Current reported that,
Wolf argued that "TERF" stands for "Trans Exterminationist Radical Feminists" and defended a Facebook post wherein he said he wanted to "f-ck up some TERFs," saying it was "bravado," not an actual threat. He then claimed he tried to knock MacLachlan's camera out of her hand because he believed she would post his image online and "out" him as a "transwoman."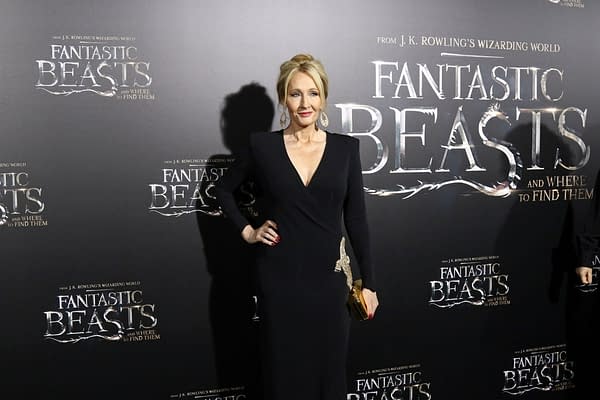 Tara was fined £150. The reason this case came up today, and the reason I quoted from that specific website, is that the reporting language is the closest used by J.K. Rowling out of the blue today. For context, over the last few years, some people have accused J.K. Rowling of holding anti-trans views over a few tweets that she retweeted, defending those who have been criticised for anti-trans language and going to rather odd lengths to not answer regarding bathroom gender identities for wizards. She has also been defended for accidental retweets, middle-aged moments, and the like.
In recent days J.K. Rowling has launched a new project called Ickabog and has encouraged children to send in their versions of the character, which she has then tweeted out to her 14.6 million adult followers, which is when this happened.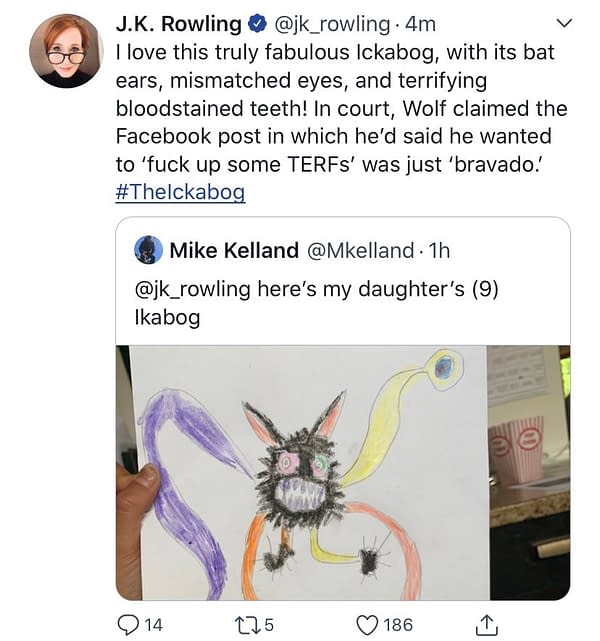 It looks very much as if J.K. Rowling has been copying a news report about Tara Wolf (and from a source that insisted in called her 'he') and pasted it into the tweet rather than, say, a hashtag or some other note. Instead, Rowling tweeted out an F-worded transphobic sentence to those millions of adult and child followers. The tweet has now been deleted, and Rowling has followed it up saying, "I'm going to say this once, and I'm going to say it calmly and politely. I certainly didn't mean to paste a quotation from a message about the assault of Maria Maclaughlin into a tweet to a child, especially given the language used by the person convicted of the crime. However, I am not – as many of the people now swarming into my mentions seem to think – ashamed of reading about the assault. You should know by now that accusations of thought crime leave me cold. Take your censorship and authoritarianism elsewhere. They don't work on me."
The source of the reading may be telling; however, even the court at the time stated that those giving testimony should respect pronouns, and most reporting organisations that covered the case did likewise. A very few, such as Feminist Current above, did not. What Rowling was initially copying that for and where she was planning to paste it, were not revealed.